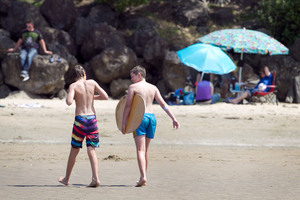 It has been a long wait for Labour Weekend - the last time Kiwis had three days off in a row was almost five months ago.
Meteorologists say east is best for the weather this weekend, with the west side of the country more likely to have some showers.
MetService spokesman Dan Corbett said the weekend didn't look too bad overall.
"The further west you are, the better chance you have of seeing some wet weather and the further east you are, the better chance you have of seeing some drier, mild weather."
Places to be this weekend are Canterbury and Hawkes Bay.
A band of rain is forecast to move up the west of the South Island, then cross over to Wellington on Saturday and reach Waikato on Sunday.
"So plan for some showers if you're having an outdoor barbecue," Mr Corbett said. "It's not complete blue sky everywhere, it's not a wash-out, it's just a typical spring weekend."
Surf lifesaving patrols begin this this weekend and volunteer lifeguards will be out from tomorrow.
Weekend patrols traditionally begin from Labour Weekend and continue until Easter in most areas of the North Island.
In other parts of the country, patrols will begin during the next month.
This season, about 4000 volunteer lifeguards will spend more than 200,000 hours keeping watch on over 80 beaches throughout the country, helping to make them safer during the summer.
Meanwhile, police patrols are out throughout the country and focusing on two of the greatest road safety risks - speed and alcohol.
During the holiday period, anyone who drives more than 4km/h over the permanent posted speed limit is liable to be ticketed.
Fixed speed cameras will be active throughout the holiday period and mobile speed cameras will be in action.
The national manager of road policing, Superintendent Carey Griffiths, said: "If you crash - regardless of the cause - your speed is the difference between serious injury and death, or between walking away and being maimed for life.
"One of the most effective things police can do to save lives is to enforce speed limits, because research clearly shows it encourages people to slow down."
Police will also run highly visible compulsory breath-test and licence checkpoints which target the times and places where people are most likely to drink, and will also check that everyone is travelling with the correct restraints.
Police urge motorists to be considerate to others and ask that slower drivers regularly pull over and let traffic pass.
Labour Weekend officially starts at 4pm today and ends at 6am on Tuesday.