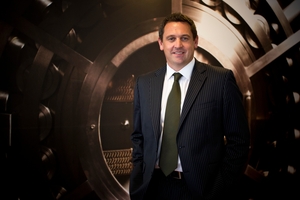 Wynyard Group chief executive Craig Richardson says access to new capital isn't the only positive to have come out of its sharemarket listing.
"It has dramatically increased the profile of the business, making it easier for the company to attract talent and get new customers on board."
Wynyard, which develops and sells security software, joined the NZX in July.
Richardson says the company always knew it would need more money to grow at some point and began considering its choices about two years ago. "We allowed plenty of time to explore the options."
Instead of going out and talking only to potential investors, Wynyard blended that process with its usual business.
When the company went to Britain to talk to potential customers, it also talked to private equity investors.
Richardson says it would have been easy to sell the business to another company. "We had numerous offers for trade buyouts," he says. "We were getting two or three a week for a while."
But the final decision to list on the sharemarket was driven by positive market conditions and feedback on the business. "What drove the final decision was the market conditions and being told it was a good story."
Richardson, who was previously chief financial officer of Coca-Cola Amatil's Pacific operations, says it was an advantage having experience in a listed company."That meant we didn't feel uncomfortable talking to bankers or uncomfortable about being a listed company."
But being listed has also come with challenges, and the group has had to work through how to balance the need for continuous disclosure with the need for some of its customers to remain anonymous.
"We had to work through the continuous disclosure but that hasn't been particularly onerous. If we had private equity investors we would be having daily discussions with them."
Richardson says being listed has given the company a level of credibility and transparency that also helps in attracting new customers.
It has also brought people in the business closer together.
"It creates an incredible level of loyalty in the company. I think there is a level of pride within the company that we did it."