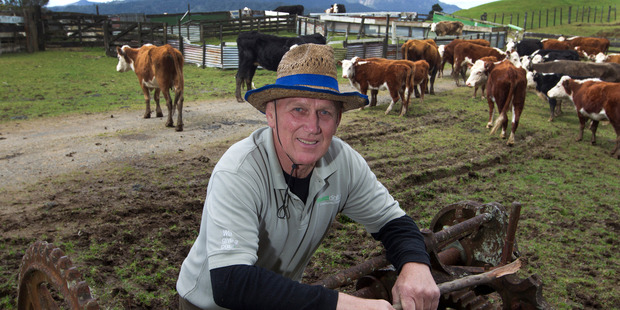 As part of the Herald's 150th birthday commemorations, reporter David Fisher and photographer Mark Mitchell travelled the country looking for the greatest Kiwi yarns. Follow their journey in this series.
Day 10: Coroglen, Coromandel Peninsula
Bruce Haynes is leaning on a fence post. A well-worn hat shields his eyes from the sun but the brim is too short to hide a larrikin's smile.
Here's a story for you, he says.
"We came out from England as kids. We immigrated twice."
Mr Haynes is up to his ankles in cow shit. The conversation is occasionally overwhelmed by the lowing of cattle. Occasionally, they rip out a string of farts or add to the mess around Mr Haynes' feet.
None of this is unusual on a farm, but the whole scene seems incongruous with this boatbuilder's son from England, particularly one with the middle name Starboard.
Mr Haynes is hosting us at the farm gate, which sits at about the highest point on the Tapu-Coroglen Road on the Coromandel Peninsula.
So about that middle name?
Mr Haynes is a twin. His dad Geoffry headed along to the registry office to sign in the new additions to the family.
"Here's their names," he says. "What about the middle names. They've got to have a second name."
His dad wasn't too sure about that. "What do you do for a living," he was asked. Telling the registrar he was a boatbuilder, the suggestion was offered: "How about Port and Starboard?"
And that's how he became Bruce Starboard Haynes.
There's a bit of laughter about this oddity from the old country which he's carried through to his sixties. That's all the age you get - nothing more specific.
But there's no vagueness when it comes to remembering how New Zealand was sold to would-be immigrants at the time his family came out in 1959.
Or, at least, the first time they came out.
Along with his three siblings, Mr Haynes studied the brochures in the six weeks it took to sail around the world.
They came out through the Suez canal, heading for a land shown to be filled with golden sand beaches and coconut trees, as the punga trees appeared. In the brochures, young Maori women wearing "grass skirts" shimmied at the water's edge.
It was raining when they arrived in Auckland. The family moved into Speedy's Motor Camp in Takapuna and stayed there for two weeks. "It didn't stop raining," he says. "It was sunny and we couldn't get to the beach. It was too cold."
So they got back on the boat and went back home, to Kent, this time through the Panama Canal.
"We got back there and it was still raining. There were ducks walking on the ice on the River Stow. So we came back."
It would have been just a month or two before they were heading south of the Equator once more.
This time they moved to Ohope, where the sun did shine, then to Whakatane.
His mother Eileen worked as a nurse, his dad as a housebuilder. In 1962 the family bought the land where Mr Haynes now farms.
It wasn't bought as a farm - the family used it as a holiday bolt-hole and spent summer in and out of swimming holes the whole way down the Waiwawa River. There was eeling and pig hunting.
Mr Haynes started out as a shearer on the peninsula, then in the South Island. There were 19 seasons working there, pulling in $1100 a week at a time when Prime Minister Rob Muldoon made just a little more.
Eventually, in the 1980s, it was back to Waiwawa Farm, named for the river with all the swimming holes. There's about 100 hectares in grass for 90 head of cattle and about 100 sheep.
His second wife Shaleshni works in a kiwifruit packhouse down the road.
And there's a boat, in the end. Moored at Whitianga, Mr Haynes has a half-ton racing yacht.
The sheep-shearing, farming son of a boat builder with a nautical name goes sailing. Like the river, life finds its own way, he says.
"We can't choose the paths we take."
Your story
Do you have a great yarn or captivating tale to share? Fill in the online form here, email your stories, photos or video to nzhgreatest@nzherald.co.nz or share your story on social media using the hashtag #nzhgreatest.