Sweet-toothed Kiwis vote with their stomachs when asked to rate favourite brands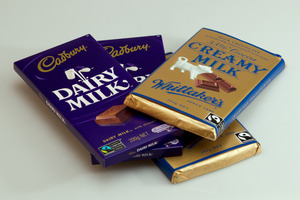 Forget Richie McCaw and Dan Carter - New Zealand's most adored brands are chocolate and ice cream.
Whittaker's and Tip Top edged out the All Blacks in a survey of which Kiwi brands the nation is most fond of. Whittaker's chocolate was the favourite, at 62 per cent, with Tip Top just behind at 57 per cent.
The world champion All Blacks were next on the list with 52 per cent of those surveyed saying they loved the brand.
Research firm Colmar Brunton asked 1,00 Kiwis what brands they were most fond of and the results gave a clear win to those the country has "grown up" with.
Jacqueline Ireland, Colmar Brunton chief executive, said the best brands need to have put in the "hard yards" with the public and been consistent over the years.
"The best brands evoke positive childhood memories and provide tangible links to those memories - they are known and trusted, as well as loved," she said.
"The best brands and their branding campaigns are unashamedly Kiwi and use that character to relate to a wide-range of ages and income brackets, according to our research ... Kiwiana, or what New Zealanders consider to be all about this country, relate to not only the positive aspects of the national character but also the character of the favourite brands."
Trade Me was the only relative newcomer to the list, which Ms Ireland put down to the site being such "an integral part of our lives in the digital age".
The winner, Whittaker's chocolate, not only topped the Kiwiana survey but was also one of the top brands people considered "New Zealand".
"A third of people think of Whittaker's when asked to name a New Zealand brand, which shows pretty impressively that the company's very Kiwi-centric advertising is hitting the mark."
The survey also showed a big decline in the number of people who thought of Marmite as a Kiwi brand, a possible reflection of the massive disruption to supply caused by earthquake-damage to the Christchurch factory.
- Staff reporter

Top Kiwi brands
1. Whittaker's chocolate
2. Tip Top
3. All Blacks
4. Cadbury
5. Trade Me
6. Air New Zealand
7. Pineapple Lumps
8. Edmonds
9. Heinz Wattie's
10. L&P