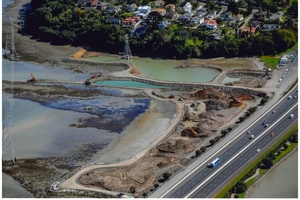 Onehunga's $28 million foreshore redevelopment is leaping ahead with fill from the $1.4 billion Waterview motorway project.
Foreshore project manager Graeme Tonks says that about 80 per cent of fill for new headlands with nine beaches, three of them sandy ones for swimming, has been delivered to the site.
He said that had raised hope of bringing completion of the project forward three months, to April 2015.
But Mr Tonks, whose firm Fulton Hogan is developing the coastline with $18 million from the Transport Agency and $10 million from Auckland Council, disclosed that the availability of enough clean fill had been a headache over winter.
That was mitigated by about 55,000cu m of material received from Alan Wood Reserve in Owairaka, where the agency has dug a deep approach trench for the Waterview project at the southern end of a future pair of motorway tunnels.
The foreshore development will end up with about 368,000cu m of fill behind bunds of soft rock formed in the Manukau Harbour.
"We were in a slow period so it really gave our programme a boost," Mr Tonks said of the Waterview project's contribution.
Although spoil from the tunnels themselves was unlikely to be suitable, he was optimistic of filling the final 20 per cent of his quota from other summer construction activities, including an upgraded motorway interchange at Lincoln Rd in Henderson and a new water main at Hunua.
Onehunga Enhancement Society chairman Jim Jackson, whose group spent years lobbying the Transport Agency and its predecessor for foreshore redevelopment as mitigation for widening the Southwestern Motorway through Onehunga Bay, welcomed the progress.
"This project will be a legacy project for Auckland and will bring long-term positive change to the Manukau Harbour that has been largely overlooked for many generations," he said.
But the group was concerned about the imminent closure to general traffic of Orpheus Drive along the foreshore.
Mr Tonks said the closure was needed on safety grounds, to avoid potential conflicts with construction traffic, but added that access for cyclists and pedestrians would be maintained.