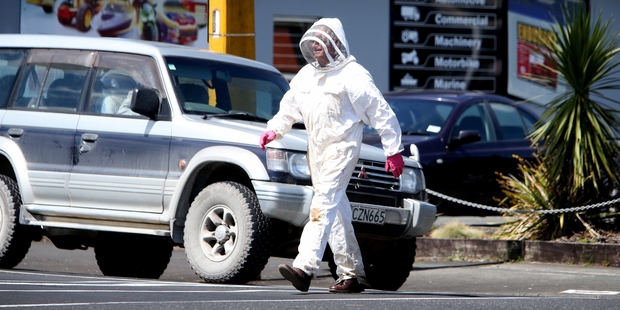 There's a new queen bee in town. In fact there are a number of them creating a buzz as they try to take over Whangarei.
It's part of the natural cycle - a strong female is given the ultimate responsibility in her community, becomes surrounded and protected by her very own swarm of drones and, as long as people treat them with respect, no-one gets hurt.
Yes, this story really is about bees, and people are being warned to stay clear if they see a cloud of bees coming toward them.
They are on the hunt for new homes, but the city centre and suburbs more likely to be in their flight path rather than potential real estate.
In recent weeks local councils, police and beekeepers have received several reports of swarms whizzing through work places, landing in suburban gardens, even hanging out in Cameron St Mall.
Reports of people taking evasive action include builders on the roof of a Whangarei pub who took a dive for lower ground when a swarm came by.
Another man was stung only once when a number of bees flew in one of his car's open windows and out the other side when a small swarm buzzed through the Bunnings carpark last week.
Swarming usually happens when hives get over populated and inhabitants decide to split.
Less often, it occurs when the hives are not looked after properly by owners.
"It's a normal phenomenon at this time of year but can be minimised with careful management," Whangarei beekeeper Allan Bindon said.
Mr Bindon keeps bees purely for pollination on his orchard.
These days, with no bee colonies left in the wild and pollination by bees essential for horticulture, there are more 'farmed' hives in or near urban locations than there used to be. Swarms that have been putting a bit of a sting in the tail of spring are likely to be break-away colonies than escapees from poorly managed hives, he said.
When a hive gets too big, nurse bees use royal jelly to pump up a new queen out of a fertilised egg the old queen has laid.
When she hatches a breakaway swarm led by older bees and including the old queen leaves the hive to create a new colony.
Unwanted swarms can be removed by beekeepers, contacted through Whangarei Bee Club website, Environment Northland or Whangarei District Council.
For more articles from this region, go to Northern Advocate