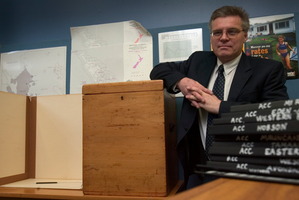 Online voting may well be the way of the future, as Local Government Minister Chris Tremain is predicting, but there are no guarantees it will increase voter turnout.
Mr Tremain says the trial of online voting in the 2016 local government elections is "to encourage people to become involved in the democratic process". But the experience in provincial elections in Ontario, Canada, two years ago proved just the opposite. Voter turnout dropped from 52 per cent to 48 per cent.
Dale Ofsoske, the managing director of Election Services, and a 30-year veteran of running elections in Auckland and nationally, says his counterparts in Toronto "were absolutely devastated".
Mr Ofsoske, who was on a study trip, says the slump was despite about $14 million being spent on public education and rebranding.
What was interesting, was that "it wasn't the 18 to 24-year-old age group that embraced online voting, it was the 45 to 54-year-olds".
It didn't bring in new voters, especially the young, it just enabled existing voters to switch methods of voting.
In this month's local elections, turnout nationwide was around 40 per cent. In the Auckland Council poll, where the one-horse mayoral poll added to voter apathy, the turnout was 35.53 per cent, well down on the 51 per cent of the inaugural 2010 Super City poll, where the mayoralty was contested by the well-known mayors of the old Auckland and Manukau cities.
For the politicians and bureaucrats trying to find ways of reversing the trend of non-voting, particularly in local election polls, the Ontario experiment is a salutary warning that there are unlikely to be any quick solutions.
Mr Ofsoske is a fan of online voting, but "it's not the silver bullet. It's just another mechanism to encourage participation and I don't believe it's going to suddenly double the turnout".
Election Services already uses online voting with postal voting for some of the energy trusts, including Hawkes Bay, Rotorua and North Power, and has found no noticeable increase in turnout.
Throughout the Western democracies, there is a trend of declining participation in elections, and it seems evident that seeking a quick cure by tinkering with the mechanics of voting is barking up the wrong tree. Still, Mr Ofsoske is keen to see online voting introduced to the mix, adding it to the current choice of postal voting or ballot-box delivery.
He does warn that, apart from the obvious issues over security, there will also be the matter of having a system robust enough to meet peak demand.
At the last election, about 10,000 votes were delivered by hand to service centres and public libraries on election morning. So it's vital to have a system that can cope with a large number of people dashing to their computers an hour before the close of polling. Voters getting a denial of service message would not be a good look.
For this reason, Mr Ofsoske uses an international election company based in Spain for larger polls, such as the kids' vote poll running parallel to the recent local election. He says the Spanish company has about 140 employees, conducts elections worldwide and has high levels of security.
Votes are recorded on servers overseas, though the analysis and organising takes place back in Auckland. Whether the Government review will approve of our votes being "served" on overseas computers will be an interesting issue. If not, servers will have to set up locally.
One advantage in online voting is that it has idiot-proofing for the confused voter. At the last poll, around 20 per cent of those Aucklanders who bothered to vote fell foul of the health boards' requirement that choices be listed in order of preference. About 10 per cent did something wrong and their vote was discarded, another 10 per cent didn't even bother. In an online system, an errant voter would have been prompted not to put a tick where a number was required, or that they'd selected too many candidates.
All of which is great for those who have actually sat down to do their civic duty. But hoping it will reverse the voting decline is a tall order. Tinkering with the mechanics of voting seems, at best, to have temporary effects.
In 1986, the old Auckland City introduced both a ward system and postal voting and turnout doubled from 30.4 per cent in 1983 to 59.8 per cent. But three years later, turnout plunged to 44 per cent, and the overall trend returned downwards.
In recent days, some have argued that the current three-week polling period is too long, and that we should revert to the one-day balloting of old. But that experiment has already been tried, with calamitous results.
In 1992, Hutt City Council abandoned postal voting, which had been adopted throughout New Zealand in 1989, and reverted to polling booth voting. Turnout dropped from 46 per cent in 1989 to 26 per cent in 1992.