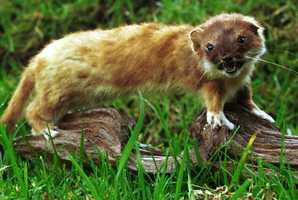 The Department of Conservation has put out an appeal for stoats' bottoms, which it needs as part of a trial to lure more of the pests.
Unusually, it needs the anal glands to lure other stoats.
Community relations ranger Cornelia Vervoorn said DoC had been using stoats caught in the Haast tokoeka kiwi sanctuary and the Landsborough Valley trapping networks, but had ran out of supplies.
DoC is conducting a trial of stoat anal gland extracts to try to come up with new ways to make trapping stoats more effective. It is part of a national DoC trial into the effectiveness of various lures.
The trial still has a year to go, "so we will need more stoats", Ms Vervoorn said today.
"An odd request, we know."
She said any one who was trapping stoats to protect native wildlife and had a supply of stoat carcasses, could contact her at DoC Franz Josef Glacier.
According to Wikipedia, stoats anal glands produce a strong, musky odour, which is distinct from weasels.
Stoats were introduced to New Zealand in the 1880s to control rabbits and hares. They are now considered "public enemy No 1" for New Zealand birds.