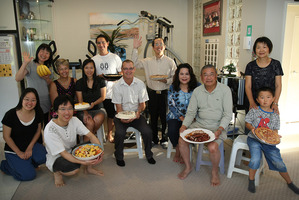 New Zealanders' attitudes to Asian people are becoming more positive, with more than half of non-Asians believing Asian immigration to be a good thing, a study shows.
The research found that the more contact non-Asian Kiwis have with Asian people, the more positive they feel about them.
However, Maori were less likely to be in favour of Asian immigration, the report - New Zealanders' Perceptions of Asia and Asian Peoples 1997-2011 - found.
The research was carried out by the Asia New Zealand Foundation, and showed a marked increase in positivity towards Asian people in the 15 years covered by the study.
In 1997 only 32 per cent of New Zealanders thought Asian immigration to New Zealand was positive, compared to 55 per cent in 2011.
By 2011 most New Zealanders agreed Asian people contributed significantly to the economy (83 per cent), and brought valuable cultural diversity (79 per cent).
However, some still believed Asians did not mix well with other New Zealanders (46 per cent) and could do more to learn about New Zealand culture (70 per cent).
"The main reason for New Zealanders' changes in perceptions in the 15 years was more contact with Asians - there were more of them around - and this helped to reduce some of the prejudice that had previously coloured many New Zealanders' attitudes,'' the report states.
Professor Paul Spoonley, one of the authors of the report, said it was comforting that attitudes had become more positive.
"The attitudes expressed during the 1996 general election towards Asians was disappointing and a low point, but New Zealanders, by and large, have come to a different realisation, especially after 2000,'' he said.
Mr Spoonley said Kiwis were much more positive about Asian immigration than most other countries, including Australia.
However, he said the concerns of Maori were "a contra-trend that needs more recognition''.
The report found Maori respondents to the survey were worried about potential competition for employment, and that Asian languages could compete for attention and resourcing with tikanga and te reo Maori. There was also a perception that Asian immigrants might not adequately acknowledge the Treaty of Waitangi.
The study found that perceptions of Asia as a whole were largely influenced by perceptions of China, and to a lesser extent Japan.
The growth of China as a global power and as a significant trading partner with New Zealand, had been the biggest change since the 1997 findings.
The authors suggested what happens in China over the next 15 years "is likely to be the major determinant of New Zealanders' perceptions of Asia in the same period''.
- APNZ