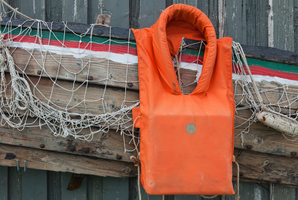 Two boaties clung desperately to a single life jacket off the Horowhenua coast while rescuers came painfully close but could not see them in the dark, a coroner has found.
Foxton farmer Colin Chrystall died after his catamaran Horizon suddenly sank while he and friend Kerry Golding were fishing off Foxton Beach on October 22, 2011.
Coroner Carla na Nagara determined that the primary contributing factor to Mr Chrystall's death was that the pair were poorly prepared for the sudden sinking of the boat.
In her finding, released today, the Coroner said the men had contacted a volunteer radio operator and told him they expected to return about 7.30pm.
After dropping anchor and casting their fishing lines, Mr Golding saw water coming up through the boat.
It gushed through the gully holes where it should have been escaping and the back of the boat started to go down.
Mr Chrystall pulled up anchor and Mr Golding retrieved the burley pots and fishing rods. But by that stage the back of the boat was ankle-deep in water and the engines were nearly submerged.
Mr Golding made a mayday call but it was never received by the operator. However, the operator initiated a search after the vessel failed to return by 7.30pm.
Mr Golding had to swim from the vessel's submerged cabin and managed to grab only one life jacket as he dived into the open ocean.
The pair removed their gumboots and made a pact to stick together while they were in the water.
Using the single life jacket as a flotation device they drifted south and could see Waitarere Beach approaching, but after some time the tide changed and they got pushed further out.
The men could see search lights from a helicopter and from search boats, and at one stage they estimated a boat was as close as 800 metres from them before it turned around.
As the hours passed the men became colder and began cramping. Mr Golding told Mr Chrystall to lie over the life jacket with his arms in front as Mr Golding pulled him along.
Several times Mr Chrystall slipped off and become submerged.
Mr Golding kept trying to get him back on the life jacket but after about three slips Mr Chrystall was lifeless.
"He was under the water at this point and I was not sure what to do," Mr Golding told the coroner.
"I'm not sure how long I held him for; it could have been five minutes or it could have been 15. Time was irrelevant and I had no idea how long we had been in the water.
"For my own survival I was forced to let him go."
Mr Golding eventually made it to shore where he found a local whitebait fisherman who contacted authorities.
Mr Chrystall's body was never found but the Coroner was satisfied the cause of his death was drowning.
"I accept that the sudden rapid sinking of boats at sea is relatively uncommon, but it is self-evident that when this does occur people's chances of survival will be significantly enhanced when they are well prepared for the possibility that it might happen to them," she said.
"This includes wearing life jackets and also carrying personal locator beacons, water proof means of communications and light sources, or having these where they can be grabbed easily as the boat goes down."
While the coroner did not consider that the time frames of the search response contributed to Mr Chrystall's death, in her view formal notification to the Coastguard could have been made 30 minutes earlier when the radio operator was still trying to make contact with the stricken vessel.
The Horizon was never recovered and it was unclear what had caused it to sink. It seemed self-evident that somehow the water tightness of its hull was breached, the coroner found.
APNZ mt gf
- APNZ