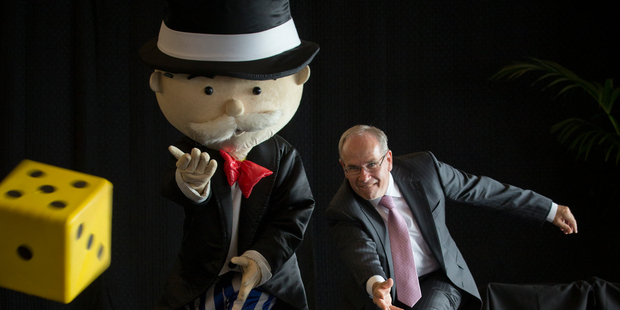 One of the world's most popular board games, Monopoly, has unveiled an Auckland edition of the game, however one of the city's most iconic streets has been misspelled.
The first edition of the Auckland game misspelled Karangahape Road, which makes up one of the red properties, as "Karanghape Road" and will subsequently have to be reprinted.
So the new 'Auckland' Monopoly has just three streets. One of which is misspelled. Warm round of applause. pic.twitter.com/p9rsyyoGXY

— Eric Young (@RealEricYoung) October 21, 2013
More than 20 Auckland landmarks were selected to replace the famous London streets from the original board game, after public submissions were taken via Facebook earlier this year.
Auckland Monopoly enthusiast Roshan Peri said he was an avid collector of the game, owning 15 different versions and was excited about the Auckland edition.
"I started playing as a kid, at 5 or 6 years of age I started playing with my siblings.
"I grew up with Monopoly; it pretty much built and destroyed my family at the same time."
Mr Peri said the Spiderman and X-Men versions were his favourites.
"This Auckland one's really, really cool."
Mr Peri said he suggested Mission Bay when public submissions were called for, and he was glad to see it made the final cut as one of the yellow properties.
He said he was selected to come to the unveiling of the Auckland version after winning an online competition.
The Sky Tower took out the coveted Mayfair spot, Harbour Bridge claimed the other dark blue position, while Auckland University, Auckland Zoo and Hilton Auckland made up the green properties.
Monopoly spokesman Andrew Thompson said the Sky Tower not only received the top spot, but also its own Chance Card, giving players the opportunity to "Climb new heights and advance to Sky Tower".
Even Auckland Mayor Len Brown's suggestion of Dominion Rd made the final cut, Mr Thompson said.
The light blue properties highlighted Auckland's connection with the sea and were made up of Devonport, Wynyard Quarter and the Maritime Museum.
Auckland's utilities were localised, with the inclusion of Auckland Water and Electricity Auckland, while the railroads were made up of Akoranga Busway Station, Newmarket Railway Station, Birkenhead Ferry Wharf and Britomart Transport Centre.
Other New Zealand cities may also be in the running to receive their own localised version, Mr Thompson said.
"In 2014 I will be travelling the country to identify which will be the next cities to have their own Monopoly and we will also be seeking suggestions from the public."
A Sydney version of the game was launched last year and a Perth version two weeks ago.
Monopoly was first sold in 1935. It is played in more than 100 countries and is produced in 43 languages.
The Auckland edition of the game is set to go on sale from November 1.
- APNZ
What suburbs and landmarks do you think should have been included on the Auckland Monopoly board? Leave your comment below: