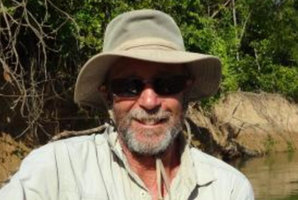 Luise Wilkinson had just seen in the New Year enjoying a few drinks with friends and was about to bunk down for the night in the caravan she was sharing with her husband when she heard a noise outside.
She found a "non-threatening" and "polite" Israel Kaihau hiding in some bushes in the front of the Waihi Beach property they were holidaying at.
"He said he was hiding because the police were after him," she said.
"I said, 'You can't stay here, sweetheart, because we are just staying here and we don't want our friends to get in any trouble ... I just politely expected that he would go away."
After leaving a smiling and nodding Kaihau, she heard her husband of 23 years confront him and tell him to leave.
A few seconds later, there was a loud bang as Mr Wilkinson slumped against the garage door after Kaihau allegedly plunged a knife into the left side of his head.
The 8.5cm-deep wound punctured Mr Wilkinson's brain, and he died two days after the January 1 attack.
Kaihau, 19, is on trial in the High Court at Hamilton for the murder of Mr Wilkinson, a 64-year-old expatriate New Zealander who lived in Queensland.
Prosecutor Ross Douch said the onus was on the Crown to prove what Kaihau's state of mind was when he allegedly killed Mr Wilkinson and the evidence would focus on three addresses Kaihau was seen at on the night in question.
The court heard how Kaihau went to an 18th birthday party in Citrus Ave, Waihi Beach, despite being on bail and under curfew.
Leaving the party with a group, he went towards the local surf club but jumped a fence at a property on The Esplanade, fearing he would be recognised by the police.
Warwick Osborne, whose parents owned the Esplanade house, said Kaihau was cocky and full of himself. He and other partygoers tired of Kaihau and asked him several times to leave.
After he was walked to the gate, Kaihau "ran like the wind" heading south down the beach, back towards the Beach Rd property where Mr and Mrs Wilkinson were staying.
Mr Douch told the jury of six men and six women Kaihau returned to the Citrus Ave party afterwards.
There he boasted how he had "shanked" someone, before asking for a plaster for a cut to his hand.
The trial before Justice Robert Dobson continues today and is set down for a week.