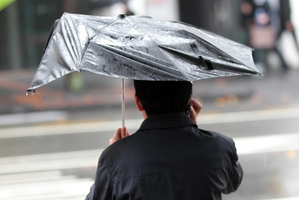 Severe weather warnings were issued for parts of the South Island this afternoon, with heavy rain, gales and thunderstorms on the way.
A second front set to hit the country later this week is also expected to bring strong winds and wild spring weather to some parts of the country for the long weekend.
MetService meteorologist Daniel Corbett said westerly spring weather systems would soon replace the anticyclone that treated most of the country to sun in the weekend.
"This week will see a return to the active spring theme, with spells of rain, gales and even thunder in places over the coming days.''
The first low front was expected to hit later today, with severe weather watches and warnings are already in place for heavy rain on the west coast of the South Island, Mr Corbett said.
Strong to severe gales of up to 120km/h would lash Southland to inland Canterbury.
From tonight until tomorrow, Fiordland, Westland and the Buller district could expect between 120mm to 220mm of rain and a risk of thunderstorms.
However, apart from the Wairarapa - where a severe weather watch for gale force winds is in place - today's front wouldn't affect the North Island, he said.
Things would calm down by Wednesday, but a second front arriving Thursday would bring another spell of wind and rain, including to Auckland.
However, temperatures would be mild thanks to a general westerly flow and afternoon highs in some eastern locations could reach the twenties.
Labour Weekend was looking like a mixed bag, with a storm stretching across the South Island and up to the central North Island, WeatherWatch head analyst Philip Duncan said.
"It looks like it will be one of those long weekends with rough weather in some parts of the country and brilliantly sunny weather in other areas. Put another way, Labour Weekend 2013 looks set to have similar weather to previous years, one half stormy the other half sunny,'' he said.
The bulk of any potentially severe weather would be in the South Island and central New Zealand areas.
"As a rule of thumb, the further north or north east you go, the better the weather should be at this early stage.''
Warnings/watches today and tomorrow
Severe weather warnings for heavy rain in Fiordland and Westland this afternoon, moving to Buller this evening. Westland could expect up to 220 mm of rain overnight.
Severe weather watches for gales in Southland, Otago Canterbury, Nelson, Marlborough and Wairarapa today and tomorrow.