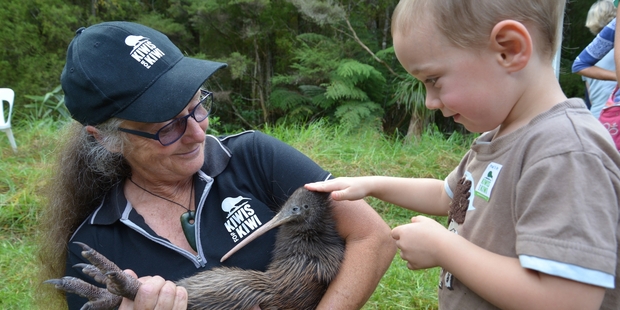 For the first time in 50 years the pitter-patter of tiny kiwi feet could soon be heard in the Marunui Conservation Reserve, situated near the Brynderwyn Hills.
Only six months after 14 kiwi were released in the 423ha block of privately-owned native forest between Mangawhai and the Brynderwyn Hills, two male birds are sitting on eggs expected to hatch in November or December.
The 14 Northland brown kiwi relocated to the reserve in April were raised on Motuora Island as part of the BNZ Operation Nest Egg scheme.
They have been regularly monitored and in July and August were all recaptured for a health check, with the Department of Conservation's assistance.
Catherine Hawley, a Marunui director, said it was noted at the time that a number of breeding-age birds had been pairing up and establishing territories.
"Our wishes were realised when, while tracking the kiwi at the beginning of September, we picked up an incubation signal from the transmitter on a male," Ms Hawley said. "Then just two weeks ago we were thrilled to receive a similar signal from a second bird. Subsequent monitoring indicates that incubation is proceeding in both nests."
Incubation, undertaken by the male, takes approximately 80 days to complete. It is likely that both fathers will be caring for two eggs as the female usually lays a second egg three weeks after the first.
Marunui's chicks will hatch in mid-November and mid-December and everything possible will be done to keep them safe from predators such as stoats, ferrets, weasels, feral cats, rats and possums.
"Their birth will be a milestone for Northland's brown kiwi, welcomed by iwi with rohe in the Brynderwyns and by the local community who supported and celebrated the release in April," Ms Hawley said.
"For Marunui it represents the culmination of years of hard work to restore and protect the habitat to a level that can provide a home for and sustain these iconic birds.
"It's also very special to be able to announce this news in Save the Kiwi Week which has been launched by the Kiwis for Kiwi Trust patron, Sir Graham Henry."
Marunui is participating in the "kiwi experience" auctions being run this week by Trade Me in support of the Kiwi Trust's national fundraising campaign.
For more articles from this region, go to Northern Advocate