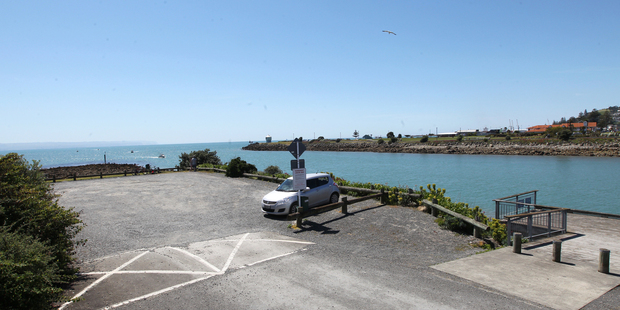 A Westshore resident came to the rescue of a "bleeding and bruised" tourist who was attacked and pistol-whipped during a late night attack at the weekend.
The woman called the police and gave the French couple a place to stay the night after they were assaulted when parked in a Westshore carpark.
The two victims, both aged 22, were able to scare off the attackers by sounding their van's horn and seeking refuge at the home of the local woman, who yesterday did not want to be named. "I heard the horn and then a knock on my door. It was quite frightening, I didn't want to open it at first, " she told Hawke's Bay Today. "I called the police, he was bleeding and bruised ... It's awful, the fact there was a pistol involved is the shocking thing."
Despite a language barrier, she was able to determine that the couple had been parked in the area for a few nights.
"From what I could gather, they had been sleeping in their van and had been sussed out.
They saw a suspicious person taking down their number plate - they or someone else might have come back for them."
The pair were taken to the police station for questioning and had their van seized as evidence, before returning to Westshore. "I offered them a place to stay for the night, so they came back here - they are with police now, they are helping to find them accommodation." The young couple from France were in New Zealand on a working holiday and had parked their van at Whakarire Ave carpark in Westshore during a visit to Hawke's Bay when the attack occurred.
About 10.45pm, police said, they were confronted by a Maori man and woman, who initially asked for a lighter, before a pistol and baseball bat were brandished, igniting the attack. During a scuffle the male tourist was struck in the face, splitting his cheek and eye, while the female escaped injury.
Neither of the tourists required medical attention, but were "extremely shaken up" by what had happened, Detective Mike Signal said. "Any incident where a firearm has been presented is right up there on the scale of things, especially when a pistol is used to smash someone in the face. It's not really something you would expect to happen when you are parked up at a beautiful location for the night."
Sadly, attacks on tourists were becoming more prevalent in New Zealand, he said. "It is common for people to come here and park up in these nice spots, but it is getting more dangerous to do it."
The alleged 27-year-old female offender, who is already in custody, will face charges of assault with intent to rob.
"There may be more charges added to that and we ask anyone who might have seen the [silver Subaru or similar] car or know anything about the male offender to get in touch," he said. "This was a cowardly and despicable act on two innocent tourists who were enjoying a visit to Hawke's Bay."
A meeting with the victims and an interpreter today, would help police better understand what happened. General manager of Hawke's Bay Tourism, Annie Dundas, said visitors to the region should keep an eye out for motorcamp facilities which have security measures in place.
Anyone with information can call Detective John McGregor on 06) 831 0700 or contact Crimestoppers on 0800 555 111.
For more articles from this region, go to Hawkes Bay Today