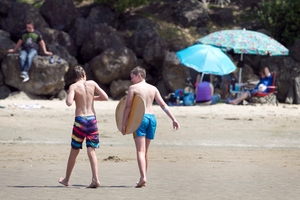 Anyone planning to bring out the tent for the long weekend might have to think again.
The weekend's golden weather and warmer temperatures made it feel as if summer had arrived early.
But forecasters say that although many parts of the country will enjoy fine spells throughout this week, the sunny weather may not last until Labour Day.
MetService yesterday said it was too far out to accurately predict what the Labour Weekend weather will be like - particularly on Monday - but initial forecasts show rain and high winds are on the cards.
Duty forecaster Leigh Matheson said much of the country would see a few fine periods this weekend, but also bad weather.
"Maybe don't get out in tents," she said. "It's spring time. The far south has strong winds and rain coming and that's really spring time. It might seem different in the far north, but from our perspective, it's spring time still."
WeatherWatch analyst Philip Duncan said Labour Weekend would bring a split between sunny and wet weather.
Places like Auckland and Bay of Plenty would be okay, save for a few showers and wind on Saturday and possibly Sunday, he said.
"Monday sees a southwesterly windflow right across the country. It'll be windy in places like Auckland with a few showers along the east coast and dry in other areas like Gisborne."
It will be mostly fine in the North Island today, with a temperature high of 18C in Auckland and 9C overnight.
Hamilton and the Waikato have similar temperatures but with an overnight high of 6C.
Ms Matheson said the weekend temperatures - ranging from about 17C to the early 20s - would remain the same this week for most areas.
A high is expected over the North Island in the next few days, bringing calmer conditions and fine spells from the Waikato, Auckland and towards Northland.
Hawkes Bay, Wairarapa and Wellington will get high winds and highs of 15C and 16C.
"Eastern parts of the North Island will be fairly mild - as they have been. We have a front that's coming [up] the South Island tomorrow and that's due to reach the North Island [tomorrow]," Ms Matheson said.
"The southern half of the North Island will have a fairly bad start - windy and rain. For the lower North Island, it will be fairly blustery [today] through to early Tuesday, as the front approaches."
Labour Weekend
Early predictions
Fri: North Island, rain or showers for most. South Island, rain in west, fine in east.
Sat: North Island, rain. South Island, rain and northwesterlies.
Sun: North and South Islands, fine spells, with possibly scattered rain in parts of the North Island.
Mon: North Island, showers and winds. South Island, a few showers with westerlies.