Frank was created around the globe, but it took an Auckland firm to get him up and moving.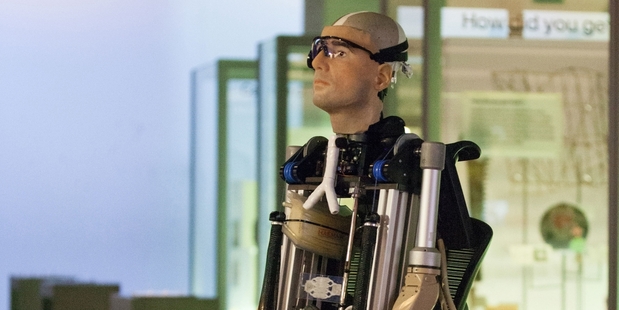 He has a heart made in Arizona, hands from Scotland, ankles and feet from New England, eyes from California and the personality of a 13-year-old Ukrainian boy - but Frank would be just an expensive jumble of prosthetic limbs, mechanical organs and computer processors if it weren't for a New Zealand robotics company.
Created for a British television series, the world's first fully bionic man uses exoskeleton technology pioneered on the North Shore by Rex Bionics (RBL) to stand and walk.
"The idea was to see how far they could go towards a bionic man by using all the prosthetics and artificial body parts that were available in the world," said RBL co-founder Richard Little.
"Of course, none of that enabled it to get up and walk. So we used our exoskeleton. It requires no input from the users other than a bit of hand function and cognitive function to drive it."
Constructed in London from US$1 million worth of global technology, Frank has an artificial heart, blood, lung, windpipe, pancreas, spleen, kidney and circulatory system.
He has a brain that can mimic some human functions and a retinal prosthesis used to restore limited sight in blind people. He sports a cochlear implant, speech recognition and speech production systems.
All up, Frank simulates about two-thirds of the human body. "It's an amazing piece of kit," Mr Little said. "It's incredible to think that all that stuff is out there."
Designed in 2010 to help disabled people with mobility issues stand and walk, RBL's Rex 1 and 2 exoskeleton systems are on the verge of going global. Last week RBL was acquired by British company Union MedTech in a transaction valued at just over $18 million.
RBL will remain based in Albany but will move to bigger premises and staff are expected to increase from 12 to more than 50 in the next year.
After being stationed in Britain's national museum in London for much of the past year, Frank is about to go to the Smithsonian National Air and Space Museum in Washington.
His appearance in America, and a second television documentary, has sparked debate over a robotic Frankenstein's monster and raised questions about how far down the path of creating mechanical enhancements for the human body we should travel.
"As a technologist I am all for using technology to assist people in their daily lives," Mr Little said. "But as it gets more developed, the question will become more relevant and more difficult to answer. Could you sustain life indefinitely and what is human and what is not human?"
Frank the $1 million man
*Made up of 28 artificial parts from around the world.
*Includes 200 processors and a million sensors.
*Has a functioning circulatory system fitted with a beating heart.
*Walks using Kiwi-made exoskeleton technology