Tens of thousands of people turned out to the two-day event, held in and around Aotea Square.
The event celebrates one of India's most significant times of the year, in which Diwali - popularly known as the Festival of Lights - takes place at the end of October.
Diwali signifies the triumph of light over darkness and good over evil. Celebrations in India can run for up to a week.
This year's Auckland Diwali Festival featured Punjabi dance groups, cultural performances, beauty pageants, henna painting and more than 50 food and craft stalls.
The food stalls - many of which offered vegetarian dishes - were a big favourite for people from all backgrounds and there were all kinds of delicious and spicy aromas in the air.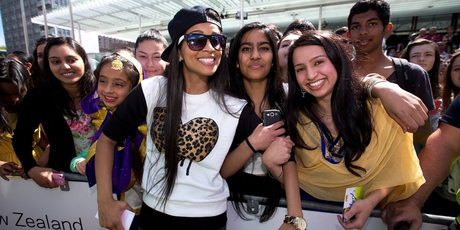 One of the biggest drawcards this year was international YouTube star Superwoman - real name Lilly Singh. The 25-year-old, who has more than a million subscribers to her Punjabi-inspired funny videos, was a hit with Kiwi fans and was yesterday out and about meeting them and posing for photos.
The Diwali Festival ended with a huge fireworks display last night.