Victims say person in equestrian scene knew saddles' worth and where they were kept.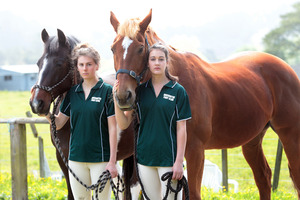 A burglary of the Greenhithe Pony Club that targeted expensive equipment was probably committed by someone with links to the equestrian scene, the victims believe.
Two custom-made saddles were among the roughly $7500 worth of gear stolen from the storage shed used by Fiona Newth's 18-year-old daughter Sophia.
A valuable dressage saddle belonging to Tarryn Walker was also stolen in the burglary last week.
Mrs Newth said the thieves selected only the most valuable equipment and appeared to know which of the sheds at the pony club the gear would be in.
"They can't see inside those sheds. So it is people who have known what is in there. They have gone straight to those sheds."
The Newth family were not wealthy but had invested in the best gear for Sophia, something the thieves seemed to know.
The only low-value item stolen was younger daughter Ella's favourite blue whip, worth around $10.
"There's a whole lot of whips lined up ... and yet they choose that one?" Mrs Newth said.
Thieves had cut through three padlocks to get into the shed and had revealed expert knowledge in choosing what to steal.
"You'd have to know how to get rid of it and you'd have to know about it in the first place. It is not going to be some petty thieves who are being opportunist.
"They are not going to know what to steal."
Tarryn Walker's mother, Carrie, also believed the theft must have been committed by someone connected to a pony club.
"It is definitely someone in the equestrian scene, absolutely. You'd have to know what you were looking at.
"Our shed is full of gear and they took only very specific things that are worth lots of money and left everything else. They knew what to take. They unclipped things that were stuck together and just took the best bit."
Club members had been on alert after some strange goings-on that included petty thefts and horses being let into the wrong paddocks at night.
Last Monday's theft had left the victims deeply distressed.
"These kids have been working on these horses for years training them," Mrs Walker said.
The thieves also stole covers off four horses.
Detective Constable Stefan Sagar said the circumstances of the theft supported the theory it was committed by someone connected to a pony club.
He did not know of any other recent pony club burglaries on the North Shore.
Thieves in the night
*17in Bates Maestro Brown leather dressage saddle
*17in Trainer black dressage saddle M\W with Harry Dabbs stirrup leathers
*17in Albion black jumping saddle M\W gullet with Albion Girth and flexi iron stirrups
*5ft 6 Weatherbeeta Landa, Pinky purple unlined cover
*5ft Shires Typhoon 100 gram winter cover.