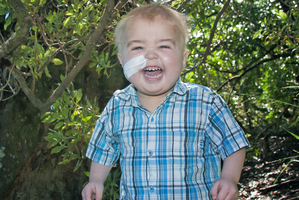 Mikey Israelson didn't like anyone saying goodbye. But today his family is farewelling the brave little three-year-old who this week lost his lengthy fight with leukaemia.
On Wednesday, Mikey, from Ohope, Bay of Plenty, died at home surrounded by his family, following 13 months of treatment at Starship Hospital in Auckland.
Aaron Israelson, Mikey's dad, put his job on hold so he and wife Alana could be at their son's side full-time at Starship and Ronald McDonald House.
"Mikey never allowed anyone to say goodbye and would get really upset if he even heard the word being mentioned," Aaron told the Herald on Sunday. "I think he hated the word because he wanted people to remember him. Mikey also did not like being called a boy and always referred to himself as a 'little man'. He would tell us off big-time if we called him a boy and would say to me 'you boy, me man'."
Mikey was diagnosed with acute myeloid leukaemia in June last year. He endured six intensive rounds of chemotherapy and a bone marrow transplant.
In the latter stages of his illness he also battled chronic graft-versus-host disease, where the transplanted immune cells attack the host's body cells.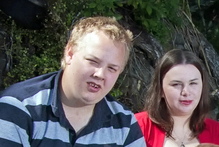 Aaron, who works in retail and is a former volunteer fireman, said he was proud of the way his son fought to the end.
The family had great hope when Mikey received the transplant in October last year and his health quickly improved. But the leukaemia returned in July and Mikey was diagnosed as terminally ill.
Just before the bone marrow procedure Aaron's dad Mike, a 25-year volunteer firefighter, died suddenly.
"Mikey was named after his Pop and they were very close," Aaron explained. "We are not a religious family but I believe the two of them are now playing together in the same place."
Aaron said despite his tender years, Mikey also loved the outdoors and liked to fish, hunt and enjoyed 4WD trips. He was also very close to his brother Wyatt, 4.
Aaron said the family was grateful Mikey was well enough to come home from Auckland for Christmas and he had lived his short life "to the max". He added the family could not thank staff at Starship and Ronald McDonald House enough for their kindness, help and support.
"Mikey liked to do things his own way and had a smile so warm it could melt an iceberg.
"While at Starship he was the type of kid who had his radio turned up full and would be dancing to classic rock music while the rest of the hospital was asleep."