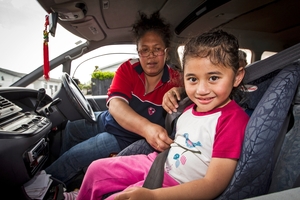 Police have been blitzing schools at bell time to make sure parents are prepared for carseat law changes.
From November 1, children will have to be in an approved car restraint up to their seventh birthday. At present, the law covers children up to 5. Children from 7 to 8 will need to be in a carseat if one is available.
Waitemata police have had checkpoints at four schools and stopped 128 cars to check carseats and make sure parents are prepared for the changes.
Beth Bates of Waitemata Police said around 10 per cent of drivers stopped had an incorrect car restraint or had it incorrectly fitted.
"The stops were purely educational and police were making sure parents knew what they needed to do," she said.
Police spokesman Ross Henderson said police would use their discretion and focus on education, while the new law was being introduced. "However, there will be no tolerance for people who put children's lives at risk by wilfully ignoring the law."
Safety advocates say no matter the age of the child it is best to keep them in a carseat or booster until they are 148cm tall.
Many getting ready for change to law
The Herald on Sunday visited a school this week and found that - despite a radio campaign and reminders from principals - most parents didn't know about the new law.
While most parents had their children restrained and in carseats, others were incorrectly restrained - with some not even using an adult seatbelt.
Pt Chevalier School principal Sandra Aitken said parents had been informed through the school newsletter and would be offered carseat discount vouchers through Safekids Aotearoa.
Tom Tapu, grandfather of Trinity Tapu, 6, wasn't aware of the law changes but said Trinity's mother was, and would arrange a carseat for her daughter.
Paul Sissons, father of Lana, 6, and Graham, 8, said, "I know all about the law and think it is great.
"Mine will be in carseats until they are safe in just an adult seatbelt, which is a long way off.
"I would have them in a proper racing harness if I could."
Linda Fiuloi, mother of Pepa, 5, said, she didn't know about the law but she always had her children in their carseats.