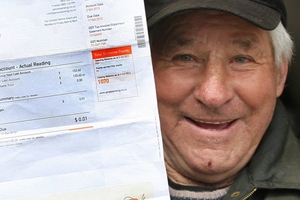 When Charles Brace opened his latest power bill he burst into laughter.
Genesis Energy was demanding 1c payment if he paid promptly.
The Masterton pensioner reckons it's a bit of a laugh, considering financial strugglers in his Wairarapa town have been complaining about extremely high bills.
"It's just a waste of time sending out a bill ... the stamp to post the bill would have cost more.
"It's stupid and makes the company look an imbecile. It was a good laugh though. It's just a big company wasting money," he said.
He wonders if he will get a penalty for late payment.
As Brace points out, "You can't pay a 1c bill. It's not even money today."
Keeping on top of his bill through direct debit has resulted in the pensioner's low bill.
"I keep on top of it because I'm all over the place exploring Masterton and fishing. We have a bach at Ngawi and another at 90 Mile Beach. I love fishing."
But he can't understand why the Government is selling off power companies.
Genesis Energy media adviser Richard Gordon said it sent out 670,000 accounts every month and it was difficult to weed out bills like Brace's.
"It is a bit odd. It must be a mistake. It shouldn't have got through."
- APNZ