Aotea Square will come alive this weekend as it hosts thousands of New Zealanders of all nationalities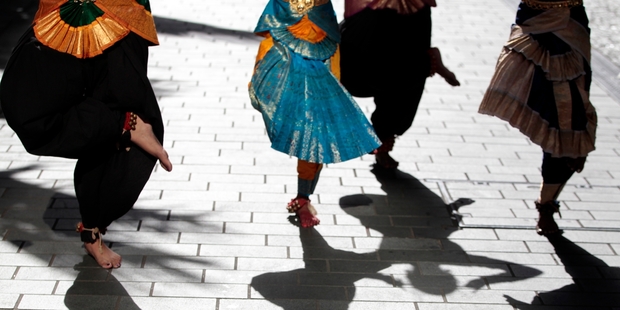 India's most celebrated event - Diwali - will light up Auckland this weekend as dozens of events and international acts help celebrate this year's Festival of Lights.
The Auckland Diwali Festival is expected to attract tens of thousands of people to Aotea Square tomorrow and Sunday for cultural performances and fashion shows, and to sample more than 50 food and craft stalls.
Diwali, also known as the Festival of Lights, takes place at the end of October, when the new moon arrives. It celebrates the triumph of light over darkness and good over evil.
In India, lamps are lit at the start of Diwali and celebrations can last for up to a week.
In Auckland this weekend, cultural performances, dance competitions, fashion shows, bands and international acts will take to the stage in and around Aotea Square.
One of the festival's highlights is the appearance of international YouTube star, Lilly Singh, better known as Superwoman.
The 25-year-old has attracted more than a million fans from around the world with funny videos based on her Punjabi background.
Auckland Tourism, Events and Economic and Development is delighted at getting such a star for the Auckland Diwali events.
Singh's performances - on both days - are part of a move to have more theatre-based acts in the Auckland Diwali event.
Ateed destination and marketing general manager Rachael Carroll said: "Life happens on the street in India.
"So at this year's festival, we're infusing more street theatre and surprise events than ever before to inject even more spontaneity into what is already an exciting event."
The Hindu Council of New Zealand has also organised events around the country.
Member Dr Rajiv Chaturvedi said Diwali was a big event in India, where the whole country stopped to celebrate.
"It's celebrated by Hindus and Sikhs and the people of India. For some in the business community there, it marks the start of the new financial year. So there are other ways that Diwali is significant."
New Zealand's many cultures had turned the annual festivals here into a unique mix of traditional and contemporary celebrations with people from all communities - European, Asian, Maori and Pacific - turning out to Diwali events.
Dr Chaturvedi said: "We're seeing a lot of Kiwis celebrating Diwali now and that is nice.
"Even organising committees are filled with not only Indians but Maori and people from other ethnicities."
Diwali:
What: An ancient Indian festival signifying the triumph of light over darkness or good over evil. Also referred to as Deepavali or the Festival of Lights.
Why: Diwali celebrates the return of Lord Rama, his wife and brother from exile and their defeat of the demon King Ravana.
When and Where: A five-day celebration at the end of October. This year, Auckland's annual Diwali Festival runs over two days, this weekend in Aotea Square.
Highlights: Saturday: Opening ceremony, Seraikella Chhau Dance group, Superwoman (Lilly Singh), Rangoli kids' art workshop, Rudali the Mourner.
Sunday: Miss India NZ, Fashion show: Indian Exquisite Elegance, contemporary artist Hanif Kureshi, Superwoman (Lilly Singh), My India Experience speakers and fireworks display to close off festival.
Auckland i-Site
Diwali Festival, Auckland:
Tomorrow and Sunday: Events run from midday to 9pm.
Visit www.aucklandnz.com for a list of events.