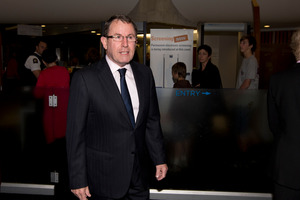 Act leader John Banks has spoken for the first time since resigning his ministerial posts yesterday, saying he hopes to fight the decision of the court to send him to trial over his Mayoral donations in 2010, and he would be back to fight the 2014 election.
Mr Banks stepped down as a Minister yesterday after the court's decision, and said his legal team were currently looking at options to challenge or appeal that decision.
"We are not going to be sitting back and taking this decision. We believe [the judge] was totally wrong, but we respect that decision because nobody is above the law. I respect that and the process of the law. Now my legal team is looking at remedies and there are a number of remedies open to us and we are going to pursue those options over the next few days."
Asked if he would stand again in 2014 if the case was still hanging over him, he said he expected it to be well and truly over by then and he intended to stand.
"Of course. It will only be my 15th election and the people of Epsom want a John Key-led National coalition Government in 2014."
He said he was "a born optimist and a fighter."
"The price of progress is always trouble. I must be making some progress, because I seemingly am always in trouble."
"Life was never meant to be easy. This journey started for me in the mid 1970s, 14 elections ago. There's been ups and there's been downs. The character is defined by how quickly you get up. And I'm up and ready to get on with it."
Asked if it had further damaged the Act Party brand, he said Act had always had its ups and downs.
"We were always going to be a lightning rod here with a one-man party in Parliament in coalition with the National Party. It was always going to be a challenge."
He said he had decided to resign as a minister if the case was sent to trial so it would not be a distraction for the Government. He had told the Prime Minister's chief of staff that last Thursday.
"But one thing is for sure. I never and I would never knowingly sign a false election return. I wouldn't do it, I didn't do it and I'm going through the process of the law to prove it."
"I support the Prime Minister and I support this Government."
He said he would not abstain from voting on the SkyCity International Convention Centre legislation, despite claims by the Green Party he was conflicted because SkyCity's CEO was a witness in the legal proceedings. One of the donations in question was from SkyCity. Mr Banks said he had told the Prime Minister he would not abstain because he believed the convention centre was important for Auckland.
"It was me that led the convention proposition when I was Mayor of Auckland in 2001-03. Auckland needs a convention centre, it is a complete no-brainer."