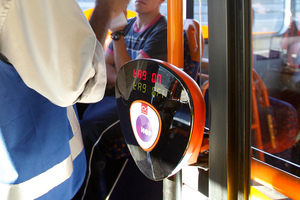 I used to live in Remuera and used a Snapper card for the buses. Earlier this year, I moved to Northcote and got a HOP card for the Birkenhead buses, which do not accept Snapper cards. I called the number on the Snapper card to ask about transferring the existing balance ($90) from the Snapper to the HOP card, or getting a refund. I received an email reply that neither a transfer nor a refund was possible, but the email provided a link to a list of merchants were I could use up my remaining $90. One I tried no longer accepted Snapper cards and another would only add to my existing balance, not allow me to use it for purchases. I hate to throw away $90.
Tracey Bowen, Northcote.
Glen Mitchell from NZ Bus says that the process from the AT HOP website (athop.co.nz/get-a-card/Pages/Retailers-offering-both-existing-purple-HOP-and-AT-HOP.aspx) is correct.
A customer in this situation should identify the most convenient retailer from the AT HOP website listing of retailers that are providing the balance transfer service. Simply present both Snapper and AT HOP cards to the retailer and they will manually purchase the balance off the Snapper card and then top-up the AT HOP card with the same amount. The minimum top-up on the AT HOP card is $10 so customers with less than $10 balance on their Snapper card need to make up the difference through a cash or Eftpos transaction.
There is no refund on 10-trip tickets.
Watercare Services is installing a pipeline called Hunua 4 between Manukau and Epsom. Unbelievably, the route is via some of the principal streets of Papatoetoe and Mangere, and then crosses Mangere Bridge.
The pipe is 1.8m in diameter and will be laid under the centre of these roads. Disruption to traffic and residents is huge and imposes a "no thoroughfare" restriction around the work area.
Preliminary work is being carried out along the route locating and identifying existing services whose presence is likely to create problems for the pipeline installation.
Will affected residents and other concerned parties be notified in advance of the impending works? Will the massive and almost continual fleets of big rigs using these roads be instructed as to which alternative routes they must follow, or may the drivers please themselves?
Installation work has reached Puhinui Rd in Papatoetoe.
Brian Fickling, South Auckland.
A spokesman for Watercare Services says that yes, it does give advance notice to affected stakeholders. Normal notice period for residents is five days.
Part of the project includes submitting traffic management plans for approval by Auckland Transport. Watercare has discussed the impacts of this project with the Heavy Haulage Association and asked that it advise its members.
The Hunua 4 project went ahead only after an extensive design and planning phase that included a thorough review of route options. Key considerations included road and shoulder width, geotechnical conditions, requirements for bulk supply points and cross connections from the pipeline and other services.