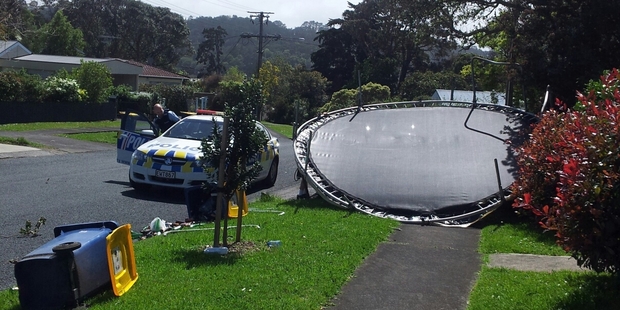 Wild weather toppled trees and sent trampolines flying as a storm that wreaked havoc on the lower North Island on Monday night tore through Auckland yesterday.
Gusts of up to 100km/h whipped through the city, tearing tiles off roofs, downing trees and knocking out power to around 800 people as the storm passed over Auckland around lunchtime.
Two trampolines were blown on to power lines in Mangere, another trampoline ended up on a property across the street in Beach Haven, roof panels were torn away from the Downtown shopping centre, and glass panels were shattered at Rydges Hotel in the central city.
Pedestrians in the central city were seen clinging to poles.
The Fire Service attended more than 30 incidents between 11am and 12.15pm.
A large tree branch that fell across Karaka Rd in Pukekohe closed the eastbound lane on State Highway 22 east of the Pukekohe golf course around 4.30pm.
The wind also disrupted flights at Auckland Airport in the late morning and early afternoon.
One international service, NZ700 from Sydney, was diverted to Wellington.
All Vector customers had their power restored by last night.
Debris from gardens, roofing materials and rubbish were blown on to power lines, the company said.
MetService forecaster John Law said gusts on the Auckland Harbour Bridge reached 102km/h.
Swollen rivers, surface flooding and emergency evacuations added to the woes of wind-battered residents in the lower North Island, after a second day of stormy weather.
Rising water levels forced the evacuation of homes in Wanganui last night after a state of local emergency was called, while rivers - heavy with rain - threatened to burst their banks.
As gales moved away from the area yesterday morning, they were replaced by heavy rain.
Surface flooding and slips affected several roads, closing State Highway 4 between Wanganui and Raetihi and threatening to close State Highway 3 at Whangaehu.
Turoa and Whakapapa ski fields were closed for the day, and access into and out of the Ruapehu region was restricted as flooding damaged roads, closing at least 24 separate roads. Schools in the area were also closed.
The Whanganui River was expected to burst over the stopbanks at Kowhai Park, as the river reached its highest levels in 10 years.
About 21,000 properties in Wairarapa, Manawatu, Whanganui and South Taranaki have had power cuts since winds began battering the area on Monday. All but around 700 were restored by last night.
- APNZ