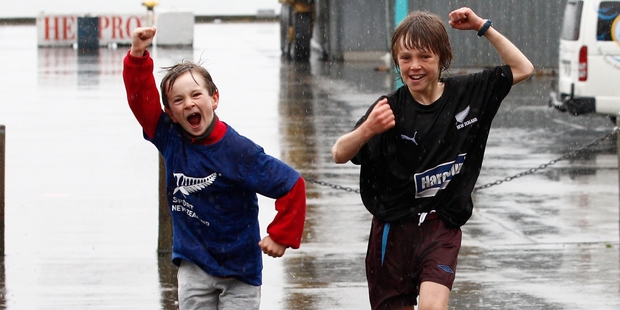 The inaugural Anza Challenge - a transtasman charity race - kicked off in Wellington yesterday to raise funds for charities on both sides of the ditch.
The race involves teams of sports stars and celebrities - representing New Zealand and Australia - who will run, row, cycle and sail for more than 1300km around New Zealand while raising funds for charities including the Halberg Disability Sports Foundation.
The race started at Parliament yesterday and will move to Nelson, Christchurch, Dunedin and up to Hamilton, before culminating with simultaneous public runs in Auckland and Sydney on Sunday.
One of yesterday's participants had already seen the benefits offered by the Halberg Foundation, which paid for a tricycle for her physically disabled 7-year-old daughter.
Gentiane Lupi said the bad weather in Wellington yesterday initially put her off, but her daughter Bella spurred her on.
Ms Lupi said Bella used the trike when they all went out cycling together as a family.
"We were amazed, she's always tried to ride bikes but just can't, she doesn't have the leg power to pedal a normal bike.
"Her brothers and sisters all have normal bikes, but she just couldn't manage it," she said.
Participants in both the Auckland and Sydney public runs will carry time chips, and their times will combine with their celebrity team's results to determine the inaugural winner of the Anza Challenge.
The distances with be collated and averaged to get a "national time", with the country with the fastest time winning the challenge.
Join the race
*Members of the public are invited to take part in the final run at the Auckland Domain in Parnell on Sunday.
*There is a 10km course for adults (18+ years) and a 5km New Zealand Herald Schools race for those 11 to 18.
*Registrations are still open at www.anzachallenge.com, and all entry fees from the Auckland charity runs will go to the Halberg Disability Sports Foundation.
- APNZ