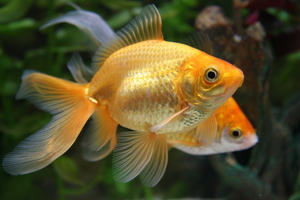 One minute you're a pet goldfish, the next you're an aquatic pest.
That at least is the way it has turned out for 200 of the little fish that have been discovered living in Albert Town's Riverside Park pond.
The fish were spotted recently by a resident and their presence confirmed by a Department of Conservation (DoC) site visit that found a "large shoal''.
Conservation services manager Chris Sydney believes the goldfish were put there deliberately by someone emptying a pond or aquarium.
"It is exactly this sort of action that can spread nasty aquatic pests into waterways. Introduced weed and fish species ... can destroy the natural state of rivers, streams, lakes and other water bodies," Mr Sydney said in a statement yesterday.
"Not only do they spoil waterways, they can be very difficult and costly to eradicate."
DoC rangers will use an electric stunning device and nets to capture the fish next week.
Mr Sydney advised people to empty aquarium water into gardens rather than drains or streams and to clean fishing gear, boats and trailers after use to prevent the spread of pest fish and weeds.
An Albert Town resident next to the pond said yesterday some local children would be "devastated" the fish were being taken away, particularly the young boy planning to catch and sell them.
A DoC spokeswoman said "responsible" homes had been found for the goldfish, although it was likely fish in poor condition would be euthanised.