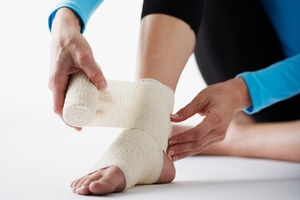 Almost 7000 people will injure themselves this week - and nearly all of these will be the result of sport or other recreational activities.
And ACC estimates about 11 per cent of claims are because of alcohol.
This week is Safety Week and each day the Accident Compensation Corporation will predict how many people in each region will hurt themselves and how they will do so.
It has also created an online "personal injury forecast tool" where people calculate their own individual injury risk, based on factors such as their age, sex, what sports they play, whether they drink alcohol and whether they have steps or stairs at work or home.
It will also offer tips on how to reduce the risk of injury.
In the same corresponding week in October from 2008 to 2012, 5800 Kiwis hurt themselves during sports and recreational activities and 930 were injured on steps and stairs.
ACC's general manager of insurance and prevention services, John Beaglehole, said the injury forecasts would mimic weather forecasts on television and radio and would also appear in regional papers.
He said they were intended to "engage, not alarm".
"We've based the forecasts on actual claim statistics, but obviously predicting injuries isn't quite as exact as predicting the weather. So our main aim is that the forecasts make people think about how easily injuries can happen, and also how easy it can be to prevent injuries."
This year, the focus during Safety Week is on injuries linked to sports and recreation, alcohol, and steps and stairs.
"We're certainly not telling Kiwis to avoid these things. Sports play a hugely positive role in our lives, and alcohol needn't be harmful if used responsibly. And it's hard to imagine a world without steps or stairs," Mr Beaglehole said. "So we're just asking Kiwis to be mindful of the risks."
One New Zealander who injured herself doing sport last year was Wellington inline hockey player Kendra Manning. Normally a stickler for warming up before a game or training session, she arrived late to practice earlier this year and ran on to the court because she didn't want to hold up her teammates.
"The very first goal-keeping movement I made, I went down on my knee and heard a loud pop," said the 23-year-old.
At A&E, her knee was at first too swollen to diagnose accurately, so she started physiotherapy but eventually had an MRI scan. She had a torn meniscus as well as a partially torn MCL ligament.
Manning was two months away from representing New Zealand at the world championships in the United States and it was "touch and go" whether she'd make it. Fortunately, she did, and her team finished third behind the USA and Canada.
"It's really important to stretch and gently warm up the body before you start playing."