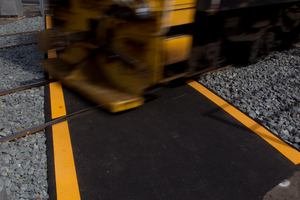 I have concerns driving over the rail crossing in Woodward Ave, Mt Albert. There are wooden slats which hold the railway lines in place. For some time now the bolts which are supposed to hold the wood in place have started poking up.
I am concerned that there may be an accident, if these bolts are not tightened and made even with the road and rail lines again. Whose responsibility is it to check on the safety of rail crossings? Irene Marsters, Point Chevalier.
KiwiRail, the company responsible for rail tracks, is aware of the condition of the runners, the technical name for the wooden boards. Some work was done there a couple of weeks ago, replacing some of the runners, and further repairs are scheduled. (By the time this column goes to print, it's likely the job will have been completed). It's a busy road and KiwiRail needs a full road closure to do the work so necessary traffic management must be organised. The work has to be done overnight, which sometimes disturbs the neighbours, so these things must be planned carefully.
Why don't the two Auckland Harbour Bridge flags fly every day? Is there a particular reason for this? Recently we noticed there were no flags morning or afternoon. Bill Gilmore, Auckland.
And, in similar vein:
When the large flags are taken down on the harbour bridge due to the high winds, they are not replaced with any other kind of wind direction indicator. Could a streamer be attached to each flag pole? This would give motorists an indication of the strong wind direction. Bill Richardson, Milford.
The NZ Transport Agency says the Auckland Harbour Bridge Alliance is responsible for the flags, and they are taken down when the wind is too strong, generally when speeds are in excess of 25-30 knots. Because of their size - they measure 7m by 3.5m - the flags damage easily and would need to be replaced almost daily if strong winds persisted.
Three sets of flags are used in rotation. On average, the flags need to be replaced annually. The two flagpoles are 12m above the top of the bridge arch. The New Zealand flag is flown from both masts except on Waitangi Day, when the Tino Rangatiratanga flag also flies, and on Anzac Day, when the Australian flag is flown alongside ours.
A streamer to indicate the wind's direction or strength would have to be large to be seen clearly from the top of the bridge and because of its size is also likely to be damaged in strong winds. However, another option being considered are "storm flags", which could remain flying on the bridge in strong winds because they would be smaller and made from heavier material.
The TA also uses the electronic messages gantries on the motorways to alert drivers about high winds and safe speed limits on the bridge.