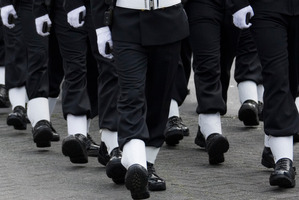 An ongoing romantic liaison between Royal New Zealand Navy Commodore Kevin Keat and a female civilian staff member is under scrutiny at a court martial at Trentham Military Camp near Wellington today.
Commodore Keat, 55, has denied eight charges relating to offences under the Armed Forces Discipline Act.
The counts cover breaching orders and other acts likely to prejudice discipline or discredit the service.
Interim suppression orders prevent publishing some details including the extent of the affair.
Commodore Keat was stood down earlier this year from his position as assistant chief in charge of personnel at Defence Force Headquarters in Wellington pending a high-level investigation.
Prosecution counsel Major Jane Derbyshire told the hearing, which started today and is expected to last most of the week, that the case was not about morality but about a senior officer's failure of leadership and the discretion required under the Act.
Civilian staff are not subject to the same rules under the Act.
The complainant who had the affair with Commodore Keat has been giving evidence for several hours and will continue being cross-examined this afternoon.
She was upset when she took the stand soon after 9am, saying she had learned only minutes before that she was not allowed to bring any notes with her detailing times, places and other information.
The court martial is being heard before Chief Judge Chris Hodson with military members Major General Dave Gawn, Air Commodore Peter Port and Commodore Ross Smith.
- APNZ