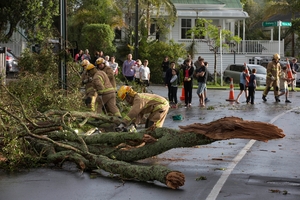 A blustery start to the new school term is expected as severe gales of up to 140km/h are set to batter large swathes of the country tomorrow.
MetService said very strong northwesterly winds, rising to severe gales, were expected in eastern and central New Zealand from morning.
It has issued strong wind warnings for inland Otago, Marlborough and Kapiti, where gusts could reach 120km/h, as well as Canterbury, Wellington and Wairarapa, where destructive gusts of 140km/h were possible in exposed places.
The winds could damage insecure structures, bring down trees and power lines and make driving hazardous, especially for high-sided vehicles and motorcycles, MetService said.
The strong wind was expected to die down by late morning in Otago, by afternoon in Canterbury, and by evening further north.
WeatherWatch is predicting sustained gales of more than 120km/h and gusts of up to 150km/h in some areas.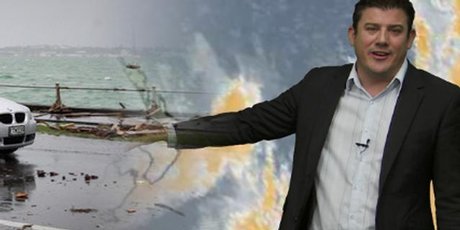 It said a fairly short-lived blasts of severe wind would push through central areas tomorrow after building around the Southern Alps today and the lower North Island tomorrow afternoon.
WeatherWatch said flights in and out of Wellington could be delayed or cancelled, especially tomorrow afternoon, and traffic on the Rimutaka Hill road between the Hutt Valley and Masterton would be strong enough to blow some vehicles off the road for a time. Delays to ferry services were also possible.
The strong winds were expected to surge over the rest of the North Island from tomorrow night until early Tuesday morning, but would weaken in most areas.
WeatherWatch said damaging gusts were less likely north of Taupo, but gales could still hit exposed places for a time. By Tuesday afternoon, most places would have much calmer conditions.
"This blast of wind over the next 48 hours may well be the peak of the October winds,'' head weather analyst Philip Duncan said.
"Long range wind maps show a few more gales in the forecast in the days ahead, but probably not to the same level as this front and belt of wind.''
MetService said the gales were being driven by a vigorous cold front moving north across New Zealand, which was also expected to bring heavy rain to the South Island.
The heaviest rain was expected on the West Coast and the Southern Alps, where up to 300mm was expected from tonight until tomorrow evening.
Heavy rain was also forecast for the headwaters of Otago and Canterbury, as well as the Tararua Ranges, north of Wellington.
MetService has issued heavy rain warnings for Fiordland and Westland from this afternoon, and in Nelson, Buller and the headwaters of Canterbury and Otago overnight.
Aucklanders can breathe a sigh of relief, as the city avoids a repeat of the wild winds that brought down trees and injured a man with falling debris last week.
*************
In the main centres:
Auckland should get fine spells with evening drizzle on Monday, with strengthening northwesterly winds and a high of 20C.
Wellington can expect a few showers and evening rain, with severe northwesterly gales for a time and a high of 16C.
Christchurch will warm up to 20C on Monday, but there will be some afternoon rain and northwesterly gales, easing in the afternoon.
Dunedin will have similar weather, with a high of 19C, rain and gales for a time.
- APNZ