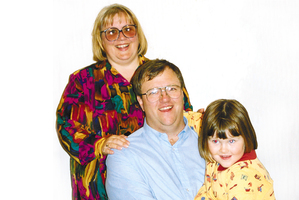 A real estate agent who killed himself five days after Christine and Amber Lundy were murdered is on a list of 60 suspects police are being urged to reinvestigate.
As a slimmed-down, goatee-bearded Mark Lundy enjoyed his first full day of freedom in 12 years yesterday, there were increasing calls for police and Crown prosecutors weighing up a retrial to "let the sunshine in" to the investigation.
Auckland businessman Geoff Levick, who campaigned to free Lundy, said there was a list of 60 suspects, 55 of whom had been ruled out by police because they were working on the assumption that the time of death was 7pm.
Now the Privy Council had called the time of death into question, those people should be looked at again, he said. "The police had a suspects list which was about 60-strong, they eliminated 55 or so that had an alibi for around 7 o'clock. And there are five who haven't been eliminated."
Supporters of Mark Lundy have pointed to several alternative suspects.
One theory is that Christine and Amber were the victims of a methamphetamine-fuelled attack or a possible execution killing gone wrong.
Another motive, previously investigated, called into question the paternity of Amber Lundy. Tests carried out during the 2002 trial, at the request of police, confirmed Mark was her father.
Local real estate agent Sheridan Martin Murphy, 49, was treated as a suspect by police, one of 60 people on that list. He committed suicide at his home in Juliana Place, Palmerston North, on September 4, 2000, just days after the mother and daughter were hacked to death in their Karamea Cres home.
Sources close to the case said there were widespread rumours in Palmerston North that Murphy, a family man and racehorse-owner, was close to Christine. But friends and family expressed surprise and anger that the finger had been pointed at Murphy, describing him as an "absolute gentleman".
Racing journalist Ron Gurney was surprised that he was being linked to the case. "All sorts of rumours were going around that he would take his own life when things seemed to be tickety-boo."
His widow, Megan Murphy, said yesterday: "I have no comment to make here."
Circumstantial evidence presented at the 2002 High Court murder trial in Palmerston North suggested Christine Lundy may have been having an affair.
A pregnancy test was found in her bedroom. Lundy testified he had not had sex with his wife for several months. Police asked for paternity tests to be done, seeking a possible motive, and Institute of Environmental Science and Research forensic biologists established Mark Lundy was the father of Amber.
Geoff Levick said police weren't showing a great deal of enthusiasm for "looking elsewhere".
"The police say they want to renew their investigations into the case ... Why don't they open the doors and let the sunshine in? There are quite a number of those strands that I think should have been looked at."
The LundyTruth website has also raised the possibility that it was committed by a person high on methamphetamine as a "hit", and said it bore similarities to violent home invasion murders in nearby Marton and Feilding. But a close friend of Christine Lundy, Christine Lockett, said there was no need for the police to widen their investigation.
She said Sheridan Murphy's suicide was "bizarre timing" but he had not known Christine.
Lundy should "be very, very careful" if he returned to Palmerston North to visit the graves of Christine and Amber, Lockett said. "He would have to watch himself coming to Palmerston North. There's a lot of very upset people over this."
Police spokesman Grant Ogilvie said yesterday police could not comment on whether they would be looking at other suspects. "The judge directed that neither police, Crown nor defence should discuss the case in the media so we will make no response."