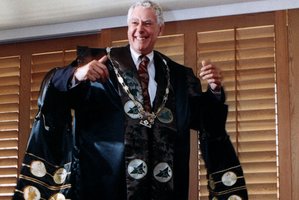 When Gwen Nash measured former Waitakere City mayor Bob Harvey up for size, she had him in stitches.
The two are pictured in 1998 with Harvey flaunting the green mayoral robes councillor Nash donated to the city.
Deeming Nash "one of the greatest dress-makers ever", Harvey insists his get-up was the most glorious in the country.
"The wonderful Gwen had a passion for embroidery and was perfect to do the mayoral robes," he enthuses.
"They were absolutely spectacular."
Before Nash took to him with a needle and thread, Harvey says, there had been no Waitakere mayoral robes for nearly 20 years.
Once stitched up however, he wore them until the end of his reign in 2010 when the Auckland wards merged into the SuperCity.
Embroidered with plants and flowers from the Waitakere Ranges, the new emerald green robes were also threaded through with cotton pukekos and tuis.
Harvey chuckles as he remembers former Prime Minister Helen Clark once complimented him on his attire, before commenting that he looked like a character from the opera.
"She said, 'My God, you look like something out of The Mikado,' the Gilbert and Sullivan play. I thought that was hilarious."
"They were also hugely popular with kids when on school visits," he adds.
Nash was a city councillor from 1995 to 2004 and was also instrumental in founding the Massey Citizens' Advice Bureau.
She died in 2009 after a year-long battle with motor neuron disease.
"Gwen was a wonderful community worker, fabulous dressmaker, and all-round fantastic woman," Harvey says.
Close friend and fellow councillor Judy Lawley conducted Nash's funeral.
Lawley laughs as she remembers Harvey wore the mayoral robes to the service at the request of Nash's family.
"It was a lovely gesture," she says.
"Gwen was a shining example of thinking outside the square. You would see a woman in her 80s who wore these remarkable clothes.
"She would turn up at council wearing jeans that were totally embroidered with roses right down the leg.
"She came across as this beautifully-dressed person who wore embroidered roses, but actually had lived a life of being quite bold."
Lawley adds: "She wasn't just a little seamstress."
The mayoral robes now serve as a stitch in time - on display at the Auckland Museum.