'The Chairman' masterminded $500,000 in drug deals, court told.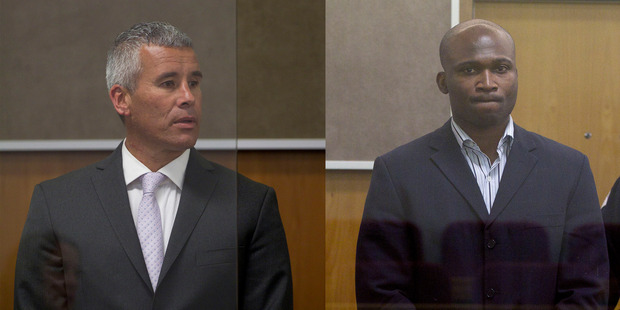 A Nigerian football player accused of being the boss of an international cocaine smuggling ring says hundreds of thousands of dollars wired to him through Western Union were for football transfers.
The prosecution has laid out a case that could be straight out of a Guy Ritchie gangster movie, with a faceless cartel "Chairman" overseeing the trafficking of South American drugs into New Zealand, with nearly half a million in cash wired back to suppliers in Argentina, Ecuador, Australia, Brazil and the African nation of Togo.
Kindness Onyedikachi Agwu is on trial accused of importing, possessing, and supplying the Class A drug after Customs officials intercepted 2.4kg early in 2010.
Auckland man Bert Leonard Noel Jury is accused of supplying and possessing cocaine.
A gym owner, granted name suppression, was jointly accused of allowing his Auckland premises to be used as a selling point for the drug. He was excused on Tuesday, four weeks into the trial, because of ill health. All three pleaded not guilty.
Crown prosecutors say the plot involved Western Union transfers of $470,292 to South America, Africa and Australia between November 2009 and February 2010 and that the drugs were stored at an Auckland gym where the cocaine was handed to the next link in the supply chain.
The Crown said two men, known as Long Hair and Silver Hair, would meet at the gym to buy large amounts of the drug - up to 20 ounces (570g). The Crown says Silver Hair is Bert Jury, who is alleged to have paid $6000 for each ounce.
The Auckland District Court heard that Agwu was the boss of the New Zealand operation and acted on instructions from an overseas kingpin known as The Chairman.
Prosecutors say Agwu arranged shipments of cocaine from South America to the address of an Auckland man, who recruited his wife into the operation. The husband and wife, who have name suppression, have pleaded guilty and have given evidence against Agwu.
Taking the stand, Kindness Agwu was asked about a series of payments totalling hundreds of thousands of dollars to Agwu and his family and former partner.
He told the court the money was for obtaining "certificates" from the Nigerian Football Association to allow football players to transfer to overseas clubs.
Concerning one payment, prosecutor Bruce Northwood said: "It's a lot of money, $2910."
Agwu responded: "Not in the football world."
Northwood went on to question whether Agwu had any proof of payments.
"No, my confirmation is when the NFA releases the certificate."
Agwu told the court that rather than being a middle-man, he was recruited by a Nigerian football agent because of his friends in the Nigerian Football Association.
Agwu gained residency to New Zealand and had been playing football for an Auckland club. He came to the attention of detectives in 2009 and an all-ports alert was placed to track his movements in mid-2010.
An earlier trial was aborted last September after a scheduling clash. An earlier witness, an employee at the gym, said Agwu had come to play for an Auckland football club. The employee said he had been asked to make payments of between $2500 and $4000 to Agwu.