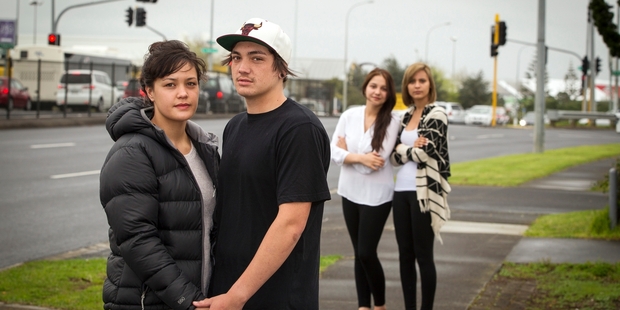 An expectant mum who miscarried after a car crash in Auckland is furious the driver at fault escaped with what she sees as only a slap on the wrist.
Tajai Roxburgh and Ethan Keeble had recently told family the happy news they were expecting a child.
But when a driver ran a red light in Howick, he shattered their dreams of holding their baby.
Hong Hui Shi, 24, was this month convicted and sentenced on two charges of careless driving causing injury after the crash last month at the Botany Rd and Ti Rakau Drive intersection in Howick.
He has been disqualified from driving for six months and ordered to pay $300 reparation to Celeste Brooke Keeble, who had a finger broken in the crash.
He was also ordered to pay $500 reparation to Roxburgh - who believes more serious charges should have been laid.
"The police told us a baby has to be past the development stages, which is three months, before a manslaughter charge can be laid," she said.
"I was only two weeks off that, and in my mind it should apply. We're not concerned about the money. It's like putting $500 on a life. "Is that really all it's worth?"
Between 2008 and last year, motorists not stopping at red-light intersections caused 11 fatalities, 169 serious injuries and 1466 minorinjuries.
But a police spokeswoman said the only alternative in Hong Hui Shi's case would have been to lay a charge of careless driving causing the death of another person.
There were no plans to upgrade the charge, as Shi "has already been convicted and sentenced".
The nightmare happened as Roxburgh, 19, and her two friends, Keeble and Michaela Sitzer were driving home on Botany Rd after an evening out with friends.
An oncoming vehicle ran a red light at a right-turning arrow and smashed into their car.
"We were nearly home, going through the lights when it happened," Brooke Keeble said. "The next thing I knew we were on the other side of the road and I could see the other car spinning.
"We were in shock. The airbags were out, there was smoke everywhere."
Roxburgh, who was sitting in the back seat, said her immediate thought was for her baby.
"I knew straight away something was wrong. I started bleeding and was later told in hospital I appeared to be in the early stages of a miscarriage," she said. "It was very sad."
A week later, she lost the baby.
Ethan Keeble said the pair were grief-stricken by what he described as a lifelong loss.
"I was looking forward to being a dad and looking after somebody else besides myself. I felt pretty gutted. I believe she would have still been pregnant if the accident didn't happen," he said.
Brooke Keeble said she was amazed the driver walked off in the other direction after the crash, before returning to his car.
"He didn't come over and check on us. I was pretty shocked at that, he could have at least come over to see if everything was all right."
Last month, police staked out intersections around Auckland and penalised drivers caught running red lights. And Auckland Transport ran a "Red Means Stop" educational campaign, with advertisements online, and on buses, billboards and radio.
There are plans to increase the use of red-light cameras in Auckland.
The crash also happened after police and Auckland Transport started a campaign in August to increase driver awareness at high risk intersections.
Auckland Transport's road safety manager, Karen Hay, said the annual cost of red light running was estimated at $43 million.