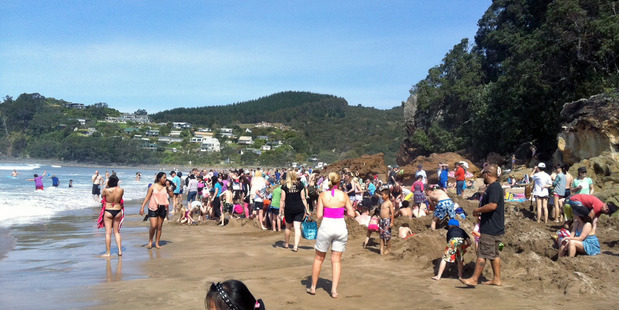 A dangerous Coromandel beach is proving so popular with tourists it is feared lives will be lost unless it is patrolled for six months each year - the longest for any beach in the country.
Surf Life Saving NZ's eastern region manager Chris Emmett says more swimmers will die at notorious Hot Water Beach if money isn't found to pay lifeguards to be on the beach for half the year, including three lots of school holidays.
Emmett said hundreds of international visitors a day now filled the beach at low tide and he held grave fears people would drown if calls to put guards on duty for longer were ignored.
In the past four years, 34 swimmers had been perilously close to death and more than 6000 removed from risky situations there.
Hot Water Beach lifeguards were each racking up more than 150 volunteer hours a season from Labour Weekend to Easter - more than double most other New Zealand beaches.
Paid regional guards currently patrol the beach daily from early December to mid-March.
Between 1995 and 2002 seven of the eight people who drowned at Hot Water Beach were overseas tourists.
But the beach's surf lifesaving boss says many more incidents have gone unreported because rescues and resuscitations occurred outside patrol times.
Club chairman Gary Hinds said it had been sheer luck medics and surfers were on hand to save swimmers in distress, some close to death.
Emmett, who patrolled at the beach during the 1990s, said the organisation had exhausted all avenues to keep people safe including some of the most aggressive warning signs in the country, leaflets at accommodation sites and a new emergency phone. But an explosion in tourist numbers meant the time had come to pay patrols between October and March, he said.
Hot Water Beach posed unique circumstances: hundreds of visitors spending a few hours at a time, at all hours of the day and night, mainly foreign and tempted to take a dip in the sea - and often into the treacherous rip - to cool off.
The Thames Coromandel District Council was due to finalise extra funding to pay regional guards around either side of the summer holidays so the season could be extended but more money was needed to stretch the patrolled season.
Destination Coromandel manager Hadley Dryden said he supported the move to increase patrols, but his organisation was unable to give financial support. "We've got a mandate to do a job and funding surf lifesaving isn't part of our mandate."

Mum's pain over loss of family favourite hard to bear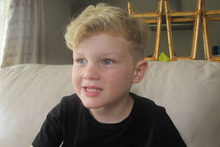 Her little boy has died, but Elizabeth Ansell is still his mum.
When 4-year-old Jaxon Pryor was found at the bottom of a swimming pool at his aunt's Hunua property on Monday, nothing could be done to save him. But even in her grief, Ansell could still be his mum.
"They put him in bed with me and I just lay with him," the emotional 30-year-old told the Herald on Sunday yesterday. "He was just like a baby and he was beautiful."
Ansell, her partner, Josh Pryor, and their surviving children, Rico, 6, and Anika, 2, buried Jaxon with his great-grandfather at the family urupa (cemetery) in the Bay of Plenty on Friday.
The Awakino boy, nicknamed "Jaxy-boy" by his family, was loved by so many that 700 people attended his tangi at Tuteao Marae in Te Teko.
"He was dressed in his favourite Angry Birds T-shirt, which was chosen by his brother, and I put two singlets on him so he wasn't cold," Ansell said.
"He looked absolutely gorgeous, like an angel. I know he's a little angel up there."
The family did not know how Jaxon, who could not swim, got into the pool, which was fully fenced and has since been drained, Ansell said.
Her 11-year-old niece made the horrific discovery when those at the house, including Ansell, Jaxon's aunt and four other children, went looking for him.
"He was just lying in the bottom of the pool and I dived in and grabbed him. His aunty tried CPR and then the firemen arrived and the rescue helicopter, I think. They told me he didn't make it," Ansell said.
Fun loving and affectionate, Jaxon was the favourite of extended family members and friends.
"We used to feel sorry for our other kids because Jaxy-boy was always the favourite with other people. I just don't know what I'm going to do without him.
"Love your babies while you have them. Make the most of every day with them because in a second he was gone.
"I just thought he would be here forever."