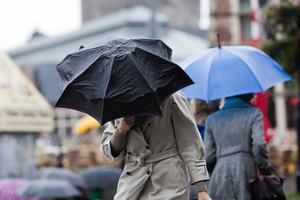 A man was struck and injured by falling debris in central Auckland as strong winds toppled trees across the city this afternoon.
Signage and timber fencing fell from a building at the corner of Greys Ave and Mayoral Drive about 4.20pm, Fire Service northern communications shift manager Jaron Phillips said.
"It was very windy at the time.''
He said the man had been struck by the signage. An ambulance spokeswoman said the man was struck by a falling wall.
The man, aged in his late 30s, was taken to Auckland Hospital's emergency department with moderate injuries.
Mr Phillips said firefighters were being called to clear fallen trees as the wind caused damage across Auckland.
"The wind has really picked up in the city - it's absolutely howling here.''
---
Send your weather-related stories, photos or videos here.
---
Trees had fallen on power lines on Mahoe Rd, Titirangi, and Orua Bay Rd in Manukau Heads. The power lines were smoking at Orua Bay.
There were also trees down across roads, including at Stoddard Rd in Mt Roskill and Valhalla Drive in Beach Haven.
Mr Phillips said an extractor fan had come loose at Fiesta Coffee on Great North Rd in Pt Chevalier.
The wet, windy weather is set to continue hammering Auckland and the upper North Island tonight as severe thunderstorms with "potentially damaging'' gusts of more than 100km/h are expected.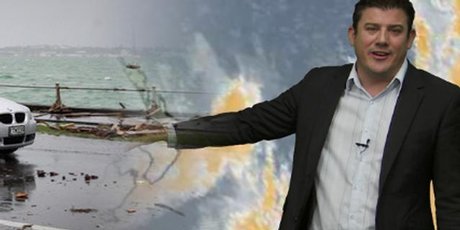 MetService issued a severe thunderstorm watch for Auckland, Northland, the Coromandel and Waikato until midnight.
Meteorologist Daniel Corbett said the coming storm will affect a much larger area than localised thunderstorms earlier this week, which damaged homes and brought down trees and powerlines on Auckland's North Shore.
"The main risk will will be strong potentially damaging winds, thunderstorms, heavy downpours - there will be lightening too.''
The chance of mini tornadoes could not be ruled out, he said.
Blustery south-westerly winds and showers are expected to continue in the north tomorrow before conditions improve during the day.
Showers will persist through much of the country tomorrow, although more sheltered eastern areas such as Gisborne, Hawke's Bay and Canterbury should escape the worst of the rain.
Sunday would be a much better day for outdoor plans, said Mr Corbett.
"I'd pick Sunday for mowing the grass or a bike ride - there might still be a few showers into places like Fiordland or Westland, but [it will be] drier.''
The past week has seen multiple weather systems moving across the country, causing snowfall to close mid-Canterbury roads between Springfield and Arthur's Pass.
"The Roaring Forties, the storm track that sits in the Southern Ocean and bends up across New Zealand in the spring, that has just been streaming in weather systems almost like a weather breeding ground.
"That will ease back as we go through the rest of the month.''
***
In the main centres:
Auckland will have showers and a high of 16 degrees tomorrow, early showers on Sunday clearing to a high of 18 degrees.
Wellington is looking at a high of 15 degrees tomorrow, improving slightly to 17 degrees on Sunday.
Christchurch can expect a high of 14 degrees tomorrow with the odd shower and northwest winds. Sunday is looking more promising with a high of 19 degrees.
Dunedin will have a high of 14 degrees tomorrow, but is the place to be on Sunday with sun, warm northwest winds, and a high of 20 degrees.
Send your weather-related stories, photos or videos here.
- APNZ