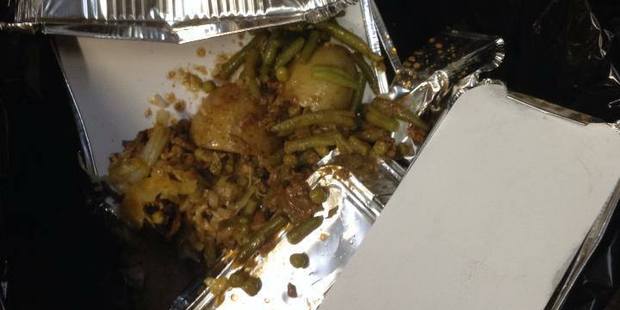 A former soldier and SAS member says food served at the Waiouru Army camp was so bad, he and fellow soldiers broke the rules to cook their own food in their barracks.
Earlier this week APNZ reported some Defence Force troops based at the camp were so frustrated by "disgusting" meals they set up a Facebook page to highlight what they're served.
The page, titled 'Waiouru's delectable delights', has now been taken down from the social network website, but it showed pre-packaged meals with stews and mashed foods and one soup that appeared to be vegetables immersed in a watery liquid.
Mike Ledingham, who served served as a corporal in the army infantry and as an SAS soldier between 1970 and 1985, said during his time it was well-known that if troops were eating at Waiouru, they would normally be served "fatty meat and bubble and squeak".
He has written a book about his time in the Defence Force, titled Once A Grunt, and devoted a chapter to the food served at Waiouru.
While on a training course there, Mr Ledingham and others in his unit bought a gas cooker and cooked bacon bones in the barracks.
They were caught by the Orderly Officer who threatened to put the group on charge, before asking what was wrong with the camp food.
One of the soldiers told the officer he had complained twice about the food.
"The officer said, 'What happened then?' and the soldier said 'It got worse'," Mr Ledingham said.
Food served to the SAS troops was better than what the Waiouru soldiers were provided with, because there weren't so many to cook for, he said.
It was "probably" not good enough to serve unappetising meals to the troops, he said.
"But if you think about the logistics of trying to feed some many men at once, something's got to fall off somewhere."
A disgruntled soldier who did not want to be named said food at the camp was "disgusting" and thought prisoners were probably fed better than the troops.
The Defence Force budgets $12.86 per day for each Defence Force members' meal, while the Corrections Department has a budget of $4.50 per day for each inmate.
A spokesman said the meals on the Facebook page were what troops ate while they were in the field training or on exercise as opposed to the food provided when soldiers dine in the camp messes.
"These meals allow troops to continue with their training without having to return to camp."
There was a minimum nutritional standard for the three core meals, which required provision of 13,000 kJ of total energy with more than 50 per cent total energy form carbohydrates, more than 31 per cent total energy from total fat and between 15-20 per cent from protein.
The meal budget remained the same regardless of rank, the spokesman said.
TYPICAL DEFENCE FORCE MENU:
Breakfast
Yoghurt
Fruit
Cereal
Eggs
Choice of Bacon, Sausage, Saveloys or Mince
Choice of Beans, Spaghetti, Tomato or mushrooms
Toast with spreads
Choice of hot and Cold Beverages
Lunch
Soup
Samosas (vegetarian option)
Peri Peri Chicken
Pork and Apple Roll
Macaroni Cheese with Bacon
Vegetables
Rice
Dessert
Dinner
Soup
Steamed Lemon Pepper Fish
Pork Stir Fry
Beef Stroganoff
Lemon Chicken
Vegetarian (made to order)
Kumara Rosti with Brie & Chutney
Vegetables
Steamed Rice
Sweets
TYPICAL CORRECTIONS DEPARTMENT MENU
Breakfast
Two Weetbix with milk, three slices of toast with spread and a cup of tea.
Lunch
Three sandwiches, a piece of fruit and tea.
Dinner
Sausages with gravy, potatoes and two seasonal vegetables, a piece of fruit and tea.
Specific dietary needs are noted and the food adjusted accordingly.
- APNZ