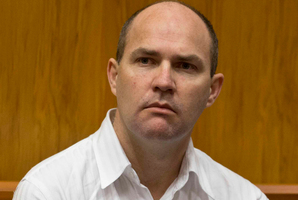 Double child killer Jeremy McLaughlin will be almost 60 by the time he can apply for parole again.
The 35-year-old teetered on the "brink" of becoming the first New Zealand murderer to be jailed with no hope of parole today. At the High Court in Christchurch, Crown prosecutor Brent Stanaway told Justice Graham Panckhurst that McLaughlin met the criteria for life in jail without parole.
McLaughlin continues to deny the murder, even in a letter he wanted read out in court today, but which was blocked by the judge who said it would only "inflame the situation".
But the judge concluded that the unrepentant McLaughlin didn't quite reach the high threshold, and instead jailed him for a minimum non-parole period of 23 years for the "brutal and senseless" crime.
In April, McLaughlin guilty of murdering his ex-partner Tina Bayliss' daughter in a callous act of revenge.
He denied strangling Jade with a piece of cord, stuffing socks in her mouth, dousing her house in petrol and setting it ablaze on November 10, 2011.
Jury members weren't allowed to know McLaughlin's shocking criminal history.
In Australia in 1995, he bashed 14-year-old Phillip Vidot with a cricket bat, and a mate ran over Vidot in a car.
The boy died, and Mclaughlin was sentenced to 12 years in jail for manslaughter. After four years he was deported to his native New Zealand in 2001.
News of McLaughlin's prior history sparked calls, endorsed by Justice Minister Judith Collins, for better sharing of criminal convictions between Australia and New Zealand.
Ms Collins will meet Australian counterparts in Sydney this week and advise of the progress being made by New Zealand Police to develop a joint Memorandum of Understanding to improve the management of Kiwis convicted in Australia and deported back to New Zealand.
Jade's mum Tina Bayliss read out her victim impact statement today, in which she paid tribute to her bright daughter, an exceptional pupil, and her "special friend".
"I think of her every day. She had everything to live for," Ms Bayliss said.
Ms Bayliss said she used to be happy-go-lucky, but now is "not really fussed about living life to the max anymore".
She has suffered depression, anxiety, and undergone medication and counselling, she said.
"I'm terrified of this happening again; terrified of losing another child."
She recently returned from Perth where she had an "emotional" meeting with the family of Vidot and another victim Tyron Williams, who still suffers brain damage from the attack.
Tina said she wonders how someone could harm three children like McLaughlin did and "still have no remorse".
"Our lives will never be the same."
As McLaughlin was led into the cells to begin his lengthy prison term, people in the public gallery shouted abuse at him, calling him "f****** gutless", a "piece of s***", and saying he should be hung.
Defence counsel Margaret Sewell indicated that McLaughlin will appeal the decision.
- APNZ