Fresh from a road trip that took them from the Far North to the deep south, reporter David Fisher and photographer Mark Mitchell encountered and recorded a recurring theme - identity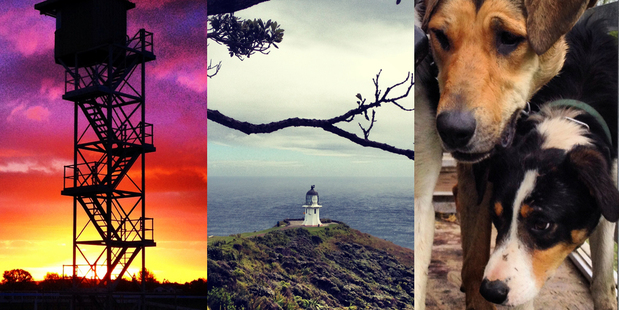 What's your greatest story?
This was the question the New Zealand Herald sent me and photographer Mark Mitchell out to ask of Kiwis between Cape Reinga and Bluff. In 22 days we interviewed 25 people, all with great stories of their own.
Each person was generous beyond belief, opening their lives and all they contained to a travelling pair of journalists excited at discovering again their country through the people who lived in it.
What an exhilarating and exhausting assignment. State Highway 1 is about 2000km long. We travelled almost twice that distance.
There was joy and wonder - little Brisa from Northland who was born halfway through a seven-year journey around the world on a catamaran was a delight. As a twin-hulled vessel in San Francisco broke a nation's heart, the craft sailed by her parents gave her more than the America's Cup would ever have provided.
Brisa, who's not yet four, thinks she's a mermaid.
There was heart-break, too. A lifelong hunter, the fourth generation of men to hunt in some of our most rugged landscapes, told how his son was shot and killed, mistaken for a deer. He picked up a rifle again, recently. His hands shook, his wife said, as he went out to shoot rabbits.
And, of course, there were stories that couldn't happen anywhere else. Rural police officers after a naked, axe-weilding mental health patient armed with an axe saddled up horses when he disappeared over a ridge. The official report is likely the only one ever to record the deployment of tasers while charging on horseback.
There were communities we did not encounter. A campervan belting hell-for-leather from Cape Reinga to Bluff did not engage with locales that require more than a fleeting visit. Our stories are poorer for not engaging some of our newest immigrants, or those whose immigration stories are still one of transience.
But they will recognise the recurring theme - identity. Again and again we spoke to those whose stories were grounded in a search for and discovery of their turangawaewae - their place to stand.
We are a nation of rich differences and it is a blend that is becoming richer. Somehow we have created the confidence to embrace the freedom of difference. We are no longer a country that enforces singularity. Like the many strands which make a rope, it is our diversity that gives us strength.
There is such certainty of purpose in Maori. No, there is no "grievance industry'', as some would call it. There is simply wrong that will be righted. There will be Maori control of all things Maori.
Tino rangatiratanga is not an aspiration or a rallying cry. It is a reality that has yet to arrive but will. There is no doubt.
One woman, ta moko on chin, said that certainty came from the surge of immigration. Now pakeha knew what it meant to feel threatened by cultural invasion and it created a conversation in which the Maori voice was understood. The proliferation of wananga across the country suggests other influences.
There are no simple or single answers, but there is no doubt the Treaty of Waitangi is being engaged as a true partnership, despite 173 years of ongoing imbalance.
Physically, we are what is obvious - a land of unparalleled beauty. I have visited many countries but none that take my breath as this. Our land is possessed of a rugged wildness that fights against 200 years of European colonisation, immigration and urbanisation.
It has a spirit that roars, if only you step out of the towns to listen. The richness of our character is greater in places where it can shine, among the brutal landscapes still filled with mighty forests and long, stunning beaches.
It is a generous landscape, not least for the creatures we share it with. Mitchell gunned the campervan down the metalled Tapu to Coroglen Road, keeping pace with a startled pheasant, urging me to lean out and wring its neck to bolster food supplies.
Less appetising invaders appeared around the next bend - a wild cat shot into the bush as we approached. In Whangamomona, wild goats bolted across the road. Given the town elected a goat as mayor in 1999, there is likely a bylaw that saves them from hunters.
The stories of immigration are remarkable. The Italian workers who built the hydro projects out the back of Turangi, the Japanese publicans during World War II on the East Cape who were kept under house arrest and even a family who immigrated twice in one year - it was raining too much the first time.
And the industry - God we work hard. Those in the cities don't see it, in the same way those in the country wonder what goes on in those towering office buildings on Queen St and Lampton Quay. Amid the beauty of this land, in the spaces between the towns and cities, we wrest a living as we have always done.
The sheep stations of East Cape, the pine forests that carpet the landscape, the goldmines of the West Coast. The provinces have always been the economic backbone of this country. They carry as heavy a load as ever.
But it was the stories we heard that endorse our greatest riches.
He aha te mea nui o te ao? He tangata! He tangata! He tangata! What is the most important thing in the world? It is people! It is people! It is people!
Everywhere we stopped, the stories we heard filled us with wonder. In the end, there was no surprise in knowing each one of us have great stories. Collectively we are living the greatest, and it is Aotearoa.
The New Zealand Herald will tell those stories through November - the 150th anniversary month during which the newspaper's first edition was printed.
Your story
Do you have a great yarn or captivating tale to share? Fill in the online form here, email your stories, photos or video to nzhgreatest@nzherald.co.nz or share your story on social media using the hashtag #nzhgreatest.