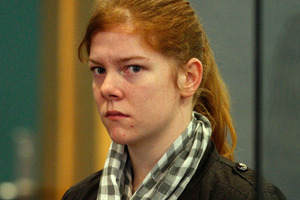 There was no way for the caregivers of a troubled teenager to have known her behaviour would escalate to setting fire to her ex-boyfriend's house, killing his mother, a Coroner has ruled.
Lynette Margaret Chapman died from the effects of a fire lit by Tonya Bennett on January 20, 2009, Coroner Morag McDowell said in a finding released today.
Bennett pleaded guilty to Ms Chapman's murder and arson and was sentenced to life imprisonment with a minimum non-parole period of 11 and a half years.
At the time of the crime, Bennett was under the control of Child Youth and Family, who told Coroner McDowell she was "one of the most challenging and difficult young people that the organisation had had responsibility for''.
In her report, Coroner McDowell said there needed to be a "totally independent'' review into the care Bennett received, which was what her report focused on.
She found Bennett's risk towards Ms Chapman "could not have been predicted given her longstanding behavioral issues [and] her borderline personality traits''.
"There were no specific predictors in the period leading up to the fire that Ms Bennett would take the actions she did.''
At the time of the fire, Bennett, then 16, had been given her own house and a caregiver for 16 hours a day.
She had been on CYF's radar since she was 9, when she began displaying behavioural issues that her parents were unable to manage, and was placed under CYF guardianship in 2006.
After absconding from numerous caregivers and regularly appearing before the courts, Bennett was relocated to a house on Wellington St in Pukekohe, which was rented specifically for her in September 2008.
She received care through the CYF-funded charitable trust YouthLink, which provided a residential and educational programme for adolescent girls with severe behavioural and emotional problems.
CYF northern regional director Sharon Thom told the coroner inquest that a total of $495,000 was spent on Bennett's care between 2006 until 2012.
"Ms Bennett was ... an extraordinary case and required a level of support far above the norm,'' she said.
In November 2008 Bennett entered into a relationship with Ms Chapman's son Brad, which ended in December.
On January 19, 2009, she and a group of friends got drunk at her house and, with 18-year-old Michael Cartwright acting as lookout, Bennett went to her ex-boyfriend's house and set it alight.
Bennett had two attempts at setting the house on fire, first with an alcohol-soaked t-shirt set on fire at the front door, which burnt out without causing damage. She then later returned with another alcohol-soaked piece of clothing and put it at the base of the stairs inside the home.
She later told police she knew Ms Chapman was home by the sound of the television upstairs.
The inquest was told the caregiver, Eva Kapetaua, charged with looking after Bennett on the night of the fire had brought her two young children with her, in breach of YouthLink's rules, because her husband was working late.
Ms Kapetaua said she knew her children should not have been at the house, but did not think it made a difference to how she worked with Bennett that evening.
She saw Bennett leave the house on two occasions with Cartwright, but failed to ask where they were going.
Coroner McDowell said it was natural to query "what if'' Ms Kapetaua had tried to find out where Bennett was going when she left the house on the second occasion.
"It would be conjecture to postulate what might have happened had such an inquiry occurred, and it cannot be concluded that such an inquiry by Ms Kapetaua would have altered Ms Bennett's behaviour or the tragic outcome that night.
"Certainly I do not consider that Ms Kapetaua could have predicted what Ms Bennett and Mr Cartwright were in fact doing.''
Coroner McDowell also said it was impossible to conclude that the presence of Ms Kapetaua's children and the manner in which she dealt with Bennett that night would have made any difference to the ``tragic events that followed''.
CYF general manager Paula Attrill said she welcomed the coroner's findings into the murder of Lynette Chapman.
"We agree with the coroner's findings that no one could have predicted Ms Bennett's actions or the risk she posed to Ms Chapman,'' she said.
"Our sincere condolences continue to go out to Ms Chapman's family.''
- APNZ