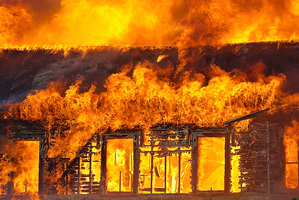 Police attempting to arrest a woman in Hokio Beach, near Levin, ended up trying to rescue the woman from a burning home.
The incident began at 7.45am this morning after police officers arrived at the 40-year-old woman's house with a warrant to arrest her.
Police allege she refused to let officers in and only spoke to them from behind a closed door.
Sergeant Martin Bull of the Levin police said the woman had displayed some "concerning behaviour'' when the officers went to the house, and had an iron bar in her hand.
"The officers were genuinely concerned for her safety and well-being and tried to communicate further with her,'' he said.
"At this point we believe the woman has retreated into a bedroom and set it on fire.''
Mr Bull said the officers alerted the Fire Service, and entered the house to look for the woman.
A man passing by saw the officers and assisted them with searching the house.
All three went to the back door and kicked it open, searching the first two rooms, overturning beds and tables looking for the woman.
"The heat from the fire caused a section of the roof to start collapsing and the smoke and heat has forced the officers and the man to leave the burning house,'' Mr Bull said.
"Once outside the house the officers have searched the section for the woman and located her hiding in some bushes at the rear of the property.
"She was the arrested and brought back to the Levin Police Station to undergo a mental health assessment. Charges are yet to be laid.''
The house has been severely damaged by the fire and the scene which is currently cordoned off is being examined by detectives and a Fire Scene Investigator.
"I want to commend the officers and the good samaritan for their bravery,'' Mr Bull said.
"They all risked their lives to find the woman and their actions show real selflessness.''
- additional reporting APNZ