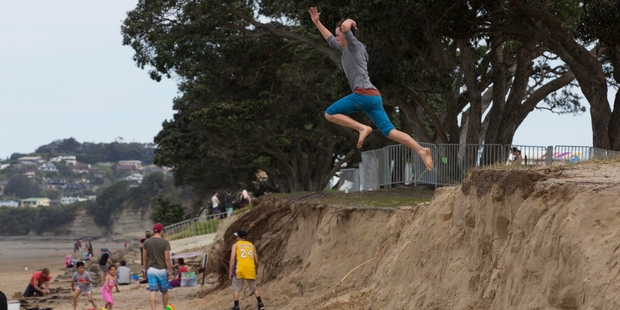 Visitors to one of the region's most popular family beaches are calling on Auckland Council to protect it after last month's freak storm waves carved out chunks of dunes and swept hundreds of tonnes of sand away.
Picnickers at Orewa Beach found barriers guarding a drop which was 5m in places instead of their favoured perch on a grassy slope seaward of the children's playground.
Along the 3km stretch of beach, walkers were dismayed at the jagged banks and washed out footpaths resulting from a battering by flood-tide seas whipped by 130km/h winds in the September 24 storm.
"We love Orewa Beach but nobody likes this," said John Chapman, who lives at Manly. "The council has to fix this - big storm surges take the sand so you need big rocks to stop it but not, absolutely not, a massive huge sea wall structure."
Mary Kershaw, of Stanmore Bay, pointed to an eroded sand cliff with pohutukawa roots emerging.
"It's a shame and there was another storm a while ago which did a lot of damage too. They need to do something to fix it."
Her friend Clara Viganoni, of Orewa, said: "The council do bring the sand that's washed down the beach back every now and again for the summer. But it's much worse this time and I'm not sure what they can do apart from placing rocks."
Alan Overfield, of Red Beach, said the reserve was too important to leave to the forces of nature, which had happened since boulders were removed from some parts of the reserve and truckloads of sand heaped on the shore to rebuild the former dunes.
"They have wasted so much money. On the English coast they beat the sea by building something permanent."
Long-time beach resident Ian Inglis said the best solution was to allow an artificial reef built with sandbags that would dissipate the energy of waves further offshore.
Orewa Beach Charitable Trust chairman Zane Taylor said the group was trying to arrange for its experts to attend a resource consent hearing on a sandbag reef that would be "100 per cent reversible if it doesn't work".
Emergency repairs to the considerable damage would begin later this month but in the meantime people must observe safety barriers and signs, said council northern local and sports park manager Martin van Jaarsveld.
Engineering advice on longer-term options for managing the wider beach area was being sought for the Hibiscus & Bays Local Board. Board chairwoman Julia Parfitt said the key emergency works would be at four weak points in the centre of the beach, including the playground.
"We have the situation where it might be a 50 or 100-year storm event but these things seem to be happening with amazing frequency.
"The foreshore is so valuable we must preserve it by doing longer-term work that is proven and will do the job."
Emergency work
* September 24 storm surge was 0.5m - on top of a 3.1m tide.
* Repairs: sand replenishment, fixing fences and retaining walls, planting dunes, repairing boat ramp.
* Engineers to report on long-term management of wave action.
* Building a trial section of sandbag reef on 600m of beach proposed by a community trust.