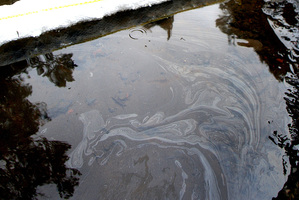 Some Raetihi residents have become ill after 15,000 of diesel spilled into the town's water supply.
The fuel spilled into the Makotuku stream - the primary tributary for Raetihi's water supply - after a pipe at the nearby Turoa Ski Field somehow became disconnected on Friday, September 27.
The water was not turned off until Wednesday when the problem was identified, so residents may have been drinking the contaminated water for six days.
Wanganui's medical officer of health, Patrick O'Connor, said six people were suffering from gastroenteritis - with symptoms including diarrhoea and vomiting - three of which could be a result of drinking water before the supply was turned off.
"We can't prove any link but there are three people whose diarrhoea and vomiting could conceivably linked to it that we know of."
Information was still being sought on the other three cases to determine whether they were connected.
"We're monitoring each case of gastroenteritis that's popping up at Raetihi at the moment," Dr O'Connor said.
Consuming diesel had been known to cause irritation of the gut and a variety of other symptoms including headaches.
"But we're talking about a very, very low dilution here."
A Ruapehu District Council spokesman said the first report of water contamination was received on Monday from a concerned resident who said the water smelled of diesel. Veolia Water took samples but it was not until the council received further reports on Wednesday that the water was shut off.
It was later revealed that farmers had become sick as a result of drinking the water, the spokesman said.
Heartlanz Motor Inn food and beverage manager Doug Parkinson estimated they had lost around 80 per cent of the weekend's business as a result of the contamination.
"A lot of us have lost our booking to Ohakune and other places because we weren't able to guarantee showers and things like that."
They had now brought in a 3000 litre water tanker and pump to provide running water and hot showers.
The motel had also opened their doors to the public to use the bathrooms.
Mercury Energy had waived their power bill, which had "sky rocketed" because of all the extra electricity, he said.
"Tourism's very important to this area," Mr Parkinson said.
"We've got the Turoa ski fields 10 to 15 minutes away, Tongariro's just down the road, there's trout fishing, hunting, kayaking in the Wanganui River so ... this has been quite a serious incident for us."
It wasn't enough to stop two local teachers from Raetihi Primary School getting married yesterday.
Reverend Grahame Craggs, who helped conduct the ceremony, said they'd had to improvise with portaloos and a water tank at the school hall, where the reception was held.
"There's always a bit of a last minute panic when it comes to weddings, so you can imagine what it would be like when you haven't got any water," he said.
"Other than that it wasn't a biggie and we had the thick part of 200 people here. It was a spectacular event."
The council said it would probably be 10 days before the town's residents could take a shower in their own homes, but it was still uncertain when the drinking water supply would be restored.
- APNZ