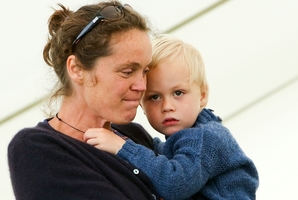 The partner of a New Zealander charged with piracy by Russian officials sobbed yesterday as she told a protest her partner is a peaceful man.
Sarah Watson broke down as she spoke at a rally outside the Russian Embassy in Wellington.
The protest was part of a global Day of Solidarity, with events at more than 170 locations in 45 countries to protest against the arrest of 30 Greenpeace activists.
Among the arrested are New Zealanders Jonathan Beauchamp and David Haussmann.
All on board the Arctic Sunrise ship, which was seized in international waters last month during a protest over drilling for oil in the Arctic, face up to 15 years in prison.
Haussmann's partner Sarah Watson, clutching their son Theo, said the activists were good people.
"These are not crazy nut-bars, they're normal peaceful people ... and they believe in the right to peaceful protest and the right of free speech and I believe they deserve some support from everybody and that includes the New Zealand Government."
Beauchamp's niece Zara Mansoor read a letter written by her grandmother, Mary Beauchamp, about her son.
The letter said: "Our John is a caring, piratical, commonsense sort of man and very brave too.
"He is particularly passionate about the Arctic, the ocean and all the creatures that depend on this environment."
Amnesty International spokeswoman Lara Rapson condemned the piracy charges as having no basis in law "or reality" and called for them to be dropped.
Greenpeace New Zealand board chairwoman Stephanie Mills said the New Zealanders were coping well, but it was a difficult time for their families.
Lawyers for the environment group have lodged formal appeals in the Murmansk Lenin district court against the continued detention of the crew members, who have been dubbed "the Arctic 30".
- Additional reporting, AP
- APNZ