Rips catch people out at popular spot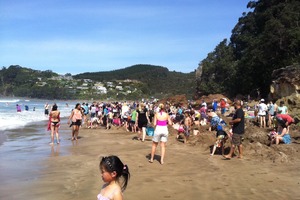 An off-duty teen lifeguard saved four people within an hour during a day of high drama at a popular beach yesterday.
James Lee, who recently turned 16, was relaxing in a hot pool at Hot Water Beach on the Coromandel after a jog when a number of swimmers got into trouble in powerful rip tides.
Lee first went to the rescue of two Kiwi boys, aged 9 and 11, who were being dragged out by powerful currents. Within 10 minutes of pulling the lads to safety, he had to rescue a middle-aged Turkish man who couldn't swim.
While he was pulling the man to safety, another man in his 20s needed help too.
Lee, a member of the local surf lifesaving club since he was 10, was at the beach visiting his parents during the school holidays. He is a Year 11 student at Auckland's Mt Albert Grammar.
"The rips were incredible but there must have been about 300 people in the water," Lee said. "Just after two o'clock I heard some parents calling out in distress to their kids and I saw two boys in real trouble about 100m from the shore.
I had no lifesaving equipment but as soon as I saw them I just went for it. Lee got two surfers to take the boys to shore. "The boys were very close to drowning and their parents were frantic."
Ten minutes later, Lee rushed back into the sea to save the middle-aged Turkish man, who couldn't swim.
"He was going under the waves and was panicking like mad. He had swallowed a lot of water."
As Lee managed to get the man on to a boogie board and safety, an American man in his mid-20s got into trouble.
"At this point I was feeling pretty overwhelmed but the adrenalin was pumping and that kept me going. Fortunately this guy could swim and I managed to get him to a sandbar.
"At this point I had had enough and started telling everyone to get out of the water. I was shattered."
Coromandel tour operator Willie Lochore said Lee was "exhausted emotionally and physically. He acted way beyond his years".