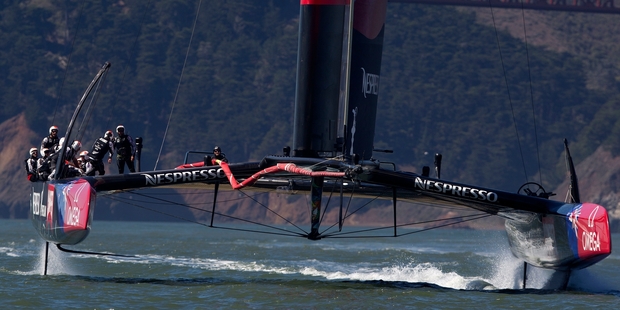 Grant Dalton says he'd like to see the Emirates Team New Zealand yacht on display at Te Papa Museum.
The syndicate head said last night the idea had been put to him and he would like to consider donating the catamaran.
"It seems that it's got some value now within New Zealand - cultural value - and we need to look at what we do with it," he told TVNZ's Seven Sharp.
The idea comes as the Government appears to be getting keener on backing Team New Zealand in another America's Cup bid.
As thousands of fans flocked to Auckland's waterfront yesterday to give Dean Barker and his team a warm welcome home from their mammoth effort in San Francisco, Economic Development Minister Steven Joyce pledged Government support for Team NZ's next America's Cup challenge.
"While you didn't achieve everything you set out to, you did win the hearts of this nation," he said to the thousands of fans.
"Not just of our nation, but the hearts of the USA and everyone else who watched this contest."
Excitement started to brew in the crowd when Mr Joyce said he had a "special message".
"This country and this Government stands ready to be part of the next America's Cup challenge.
"As I've said to Grant and Dean, 'you've got a lot of work to do'. I said 'work on a proposal and we'll help you out with it'."
Mr Joyce commended the team members on their tenacity, commitment and integrity.
The dignified way Dean Barker and his crew behaved in the face of such a disappointing outcome was cause for great admiration, he said.
Despite the result, Team NZ had nearly pulled off a massive upset, Mr Joyce said.
Team NZ skipper Dean Barker told the crowd he had never been so proud to be a New Zealander.
"I know - and I speak for the rest of the team - we went to San Francisco to win the America's Cup and we didn't do that.
"But the messages of support, the strength of the emotion and humbling words that so many of us have received, we can never thank you enough and it definitely gives us the strength to go on."
The team knew there was a "huge amount of incredible goodwill" in New Zealand, but they didn't really understand the extent of what was happening back home, Barker said.
"But it's really remarkable how many people have been touched and getting involved in our sport, and it makes us incredibly proud to think you have been following what we were doing.
"We would have loved to have brought the Cup back and have it sitting here right now, but your support has been absolutely phenomenal."
Dalton, the syndicate head, said the support the team had received from everyone, including sponsors and the Government, had been remarkable.
He particularly thanked the Government, saying "actually, they're good blokes" and "really nice people".
Auckland mayor Len Brown welcomed the team back to New Zealand, saying the crew had united us as a nation.
"We were with you on every tack, every gybe. We were leaning with you," he said. "We've all become experts on foiling, and we all hated that moment when they cancelled our race too early."
TVNZ sailing commentator Peter Lester described the crew as "sailing heroes".
Fans were thrilled by the announcement that the Government was keen to help fund another challenge for the Cup.
Nigel Greenwood said it was a "damn good idea" and would be "money well spent". "The amount of advertising New Zealand got out of this is just outstanding, both with the boats and the place in general," he said.
"We built the boat that beat us. Technology in New Zealand is leading the way, and the Government has got to get in behind that."
After the official ceremony the team walked down Queen's Wharf past the crowds, some waving and shaking hands with fans.
Barker later came out and spent some time walking down the line as fans crammed against barriers to shake his hand. Shouts of "It's Dean, it's Dean" could be heard as those still on the wharf ran to the barriers to catch a glimpse of the skipper.
The public is joining the Government in getting behind Team NZ's next challenge.
A crowd-sourcing appeal launched by Kiwi fundraising website Givealittle.co.nz has been inundated with donations from fans wanting to help the team get to the next America's Cup.
Owned by the Telecom Foundation, Givealittle.co.nz had the biggest night in its five-year history on Thursday after donations to the 'Team New Zealand for America's Cup 35' spiked to record highs.
More than $37,000 was pledged in the space of five hours, and at its peak donations were averaging $10,000 an hour. The page has raised more than $100,000 so far.
- APNZ