From Cape Reinga to the Bluff, the New Zealand Herald's epic roadtrip has begun! To celebrate the Herald's 150th anniversary we're on the hunt for your greatest stories.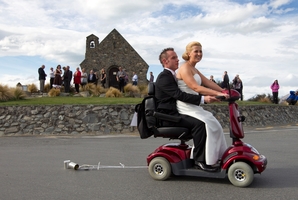 It's a classic wedding image - the bride and groom motoring away from the church in a luxury car, tins cans rattling behind and a "Just Married" sign on the back.
In Canterbury, they do things differently.
When Alice Bell became Mrs Sam Berge yesterday, they left the wedding for the reception on a mobility scooter.
"I've just had a stroke," said Mike Hore, Mrs Berge's stepfather and owner of the scooter.
"Everybody gets to play on the scooter when they come around."
The happy couple, who married in the historic stone church at Lake Tekapo, hadn't had as much chance as the rest of the family as they'd moved to Brisbane some time ago. They returned to get married, Mrs Hore kitted the scooter out in the traditional way and the two climbed aboard after exchanging vows. Obviously pleased, Mrs Hore declared it something she had not seen done before.
"I thought that'd be really cool."
Mrs Berge, from Christchurch, had settled on the Church of the Good Shepherd during a tour of the South Island. Mr Berge, from Auckland, navigated the path from the church without a hitch.
The wedding was encountered by reporter David Fisher and photographer Mark Mitchell during their road trip from Cape Reinga to Bluff as they gathered stories for the Herald's 150th anniversary celebrations in November.
Greatest NZ Stories
Readers wishing to contribute their "greatest stories'' can email them to nzhgreatest@nzherald.co.nz.