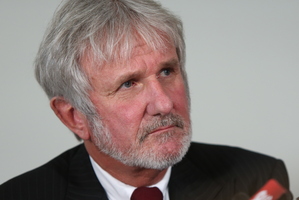 Ailing state-owned coal miner Solid Energy's net value to the taxpayer has plunged from more than half a billion dollars to less than $100 million in three years, its annual result yesterday revealed.
The company reported a $335 million loss as it wrote down the value of mines, alternative energy investments and land to the tune of $215.3 million and incurred $102.2 million in one-off restructuring, redundancy and closure costs.
Chairman Mark Ford said the write-downs "draw a line under those parts of the business that no longer form part of our future and acknowledge that any future improvement in value will come from our core coal mining activities".
Solid Energy said the writedowns of its assets and other factors had reduced its existing shareholders' equity by $332 million to $91.6 million. Its shareholders' equity in 2011 before investments in alternative fuels failed to fire.
The Government this week announced a rescue package for the company, which is struggling under a $380 million debt pile and which has shed 700 jobs in the past year.
Most of its debt - $286 million - is owed to banks, which will exchange $75 million of that debt for shares. The company will also issue $25 million of new shares to the Government in exchange for cash.
The deal means the company's banks may own as much as 40 per cent of the company via their non-voting redeemable preference shares.
Labour's state owned enterprises spokesman Clayton Cosgrove called for an Auditor General's inquiry.
"National was warned time and again over four years that Solid Energy was in trouble, but ministers refused to listen and took no action.
"We need to know what decisions were made and what action and inaction caused the company's near collapse."